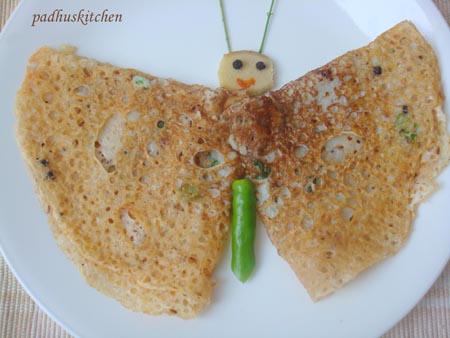 Rava dosa is quick and easy to prepare and also tastes great. It needs no grinding or fermenting. Whenever I run out of batter, my choice is rava dosa. This dosa should be taken hot. Now to this quick, simple and tasty dosa recipe.
Ingredients needed
Ravai /semolina – 1/2 cup
Rice flour – 1/2 cup
All purpose flour/maida –1/4 cup
Water – 3 – 3 1/2 cups
Green Chillies – 1 finely chopped
Ginger – 1 inch piece
Whole black pepper – 1 tsp
Cumin seeds –1 tsp
Salt as required
For the seasoning
Mustard – 1/2 tsp
Asafoetida – a generous pinch
Curry leaves- a little
Method
Soak semolina in a little buttermilk for 1 hour.
Then mix rice flour, maida and water with it. The batter should be thin and watery.
Add finely chopped ginger, finely chopped chillies, cumin seeds, whole black pepper and salt.
Heat a tsp of oil, add the ingredients for seasoning and pour it over the batter.
Heat a non stick tawa/iron griddle, take a little batter in a ladle and start filling it from the outer corners of the tawa to the inside in a net like pattern.
Drizzle a tsp of oil around the dosa.
Cover it with a lid, when it becomes golden brown, flip it over to the other side and let it get cooked.
Serve hot with any chutney or sambar of your choice.
Meet you all again with an interesting post. Till then it is bye from Padhu.