Karthigai Deepam is a popular and one of the oldest festivals celebrated in Tamil Nadu. It falls on the Tamil month of Kaarthigai on full moon day which coincides with Krithikai star in the month of November or December.It is considered as the extension of the Deepavali festival.The whole of karthigai month people light earthen lamps in front of their houses. On the evening of Karthigai, more lamps/agal vilaku are lit and kept in front of the house, near the windows, balcony of the house, on the kolams etc. It is a such beautiful sight to see the lamps lined in front of all the houses. People also burst crackers and celebrate the festival. It is celebrated in a grand manner in Thiruvannamalai. This year Karthigai Deepam falls on 27 November 2012.
Aval Pori Urundai (Karthigai Deepam Special)
Karthigai Deepam Recipes
Appam Recipe (Neiappam/sweet appam- traditional method)
Kheer recipes (find a long list/ variety of payasam recipes in the link)
Kadalai Urundai (peanut balls)
Aval Pori Urundai (Karthigai Deepam Special Pori Urundai- Also nel pori urundai)
Sweet Appam without baking soda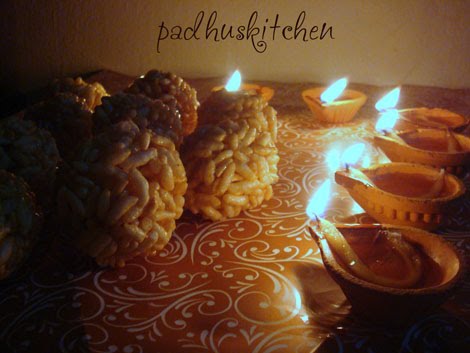 You might like my collection of
If you found this post useful, kindly consider linking to it or sharing it with others or like us on
Facebook
or follow me on
Twitter
or join me on
Google Plus or Instagram
to keep up to date with Padhuskitchen.