I am not a big fan of pasta, but I love to have this creamy pasta in white sauce occasionally. This is very delicious, filling and very easy to prepare.My children love it very much. Though I have used penne pasta to prepare this recipe, you can replace it with any pasta of your choice.I have long time back posted pasta in tomato sauce, so today we will learn how to make pasta in white sauce following this easy pasta recipe.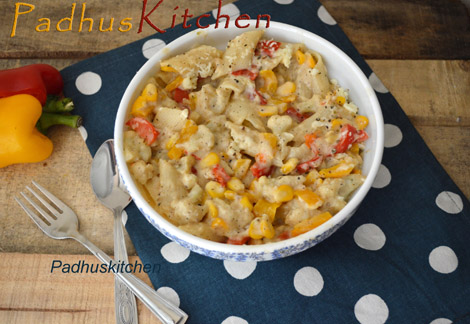 Creamy Penne pasta in white sauce -veg
Let us divide this recipe into 4 steps to make it easier. This recipe serves 2 persons
Step – 1 – Cooking the pasta
Step – 2 – Cooking the vegetables
Step – 3 – Preparing the white sauce
Step – 4 – Mixing all the above.
Step 1- Cooking pasta
Ingredients needed
Penne Pasta – 125 grams
Oil – 1/2 tsp + 1/2 tsp
Salt – 1 tsp
Method
In a wide pan, bring plenty of water to boil, add salt and oil. Then slowly add the pasta and cook till the pasta is al dente.( it should be soft but firm) Stir in between to prevent the pasta from sticking together. After it is cooked, drain it in a colander and pour cold water on it. This is done to prevent it from getting cooked further. Mix another 1/2 tsp oil to it and keep it aside. (Reserve 1/4 cup of the water in which pasta was cooked as we might need it later)
Step – 2 Cooking the vegetables
Though I have used colored capsicum, sweet corn and cauliflower in this recipe, you can use mushrooms, carrots and broccoli too.Since I could not get broccoli that day, I have used cauliflower,but I recommend broccoli for best results. Do not omit sweet corn as it tastes great in this dish.
Ingredients needed
Olive oil – 1 tbsp
Garlic finely chopped – 1 tbsp
Red and yellow capsicum – half each (you can use green also)
Cauliflower or broccoli florets- 1 cup ( blanched- put it in hot water with a little salt)
Sweet corn – 1/3 cup
Pepper powder to taste
Salt as required
Oregano -3/4 tsp or to taste
Method
Heat oil in a pan, saute garlic for a few seconds, then add capsicum, corn and cauliflower.Cook uncovered till done. Do not overcook the vegetables. The vegetables should retain its crunchiness.
Add oregano, salt and pepper powder to taste. Keep it aside.
Step – 3 Preparing the white sauce
You need
Butter – 1 1/2 tbsp- 2 tbsp
Cornflour – 2 tbsp ( if you do not have cornflour, use maida/ all purpose flour)
Milk – 1 1/2 cup (boiled and cooled)
Cheese – 3-4 tbsp (use mozzarella or parmesan or even amul cheese cubes)
Salt and pepper powder to taste
Mixed Italian herbs (or) Oregano and dried basil
Method
In a pan/ kadai, melt butter, simmer and add cornflour stirring continuously. Saute till it changes color slightly.
At this stage, add 1/2 cup of cold milk and stir continuously with a whisk to prevent formation of lumps.
When it starts thickening, add the remaining milk gradually stirring continuously with the whisk.
Bring it to boil, reduce the flame, add cheese, salt, pepper powder and herbs to taste.
Cook for another few minutes, till it thickens slightly and remove from flame. (If it is too thick, you can add the water reserved while cooking pasta and heat again).This sauce will thicken as it cools, so mix it in between or a layer will form on the top.
Step – 4 Mixing all the three

You need
Grated cheese for garnishing.
Mix all the three together. Transfer to a baking pan, top it with grated cheese and bake in a preheated (180 degree C) for 10-15 minutes or until the cheese has slightly browned. If you do not have an oven, mix all the three in a pan, heat it, top it with grated cheese and serve hot.
Note – You get oregano, mixed Italian herbs, cheese in all big departmental stores.I got it from Nilgiris.
More Pasta Recipes (Vegetarian)
If you found this post useful, I would really love it if you pin it or share it with your Facebook fans or Twitter followers or Google+ circles today. All it takes is a simple click on the "pin it" "like," "share," "tweet," or Google+ buttons below the post. It will keep me motivated.Thank you!