Karadaiyan Nombu is observed by the Tamil Brahmin Community in which married women prays and does poojas for the well being and long life of her husband. It is observed on the day when the transition between the Tamil months Maasi and Panguni takes place.This year it is on March 14 th, 2013. Karadai is the name of the dish prepared on this day. This dish is made of rice flour and is very good for health that we can even have it as tea time snacks. Today we will learn how to make Karadaiyan Nombu adai both sweet and savory version following our easy recipes.
Karadaiyan Nombu Adai Recipes
Sweet Karadai/Vella Adai Recipe
Cook time – under 20 mins
Yields – 12
Ingredients needed
Raw rice – 1 cup
Jaggery – 1 cup
Water – 2 1/2 cup
Coconut bits or grated coconut- 1/4 cup ( I used a mix of both)
Black eyed peas or karamani – 1-2 tbsp cooked
Cardamom powder – 1/4 tsp
Preparation
Pressure cook black eyes peas until soft but not mushy.
Dry roast raw rice until it changes to golden brown color. Grind it coarsely like rava.
Melt jaggery in 2 1/2 cup of water, filter it to remove impurities.
Method
Add grated coconut and karamani/cow peas, cardamom powder to the jaggery water.
Boil jaggery water, when it starts boiling, add a tsp of ghee.Then reduce the flame and add rice rava slowly stirring continuously.
Keep the flame in medium and cook well until it leaves the sides of the pan. Switch off the flame and allow it to cool.
Divide it equally, make balls, flatten it, put a hole in the center (as in the picture above) and steam the sweet adais in an idly cooker or steamer for 15 minutes.
Serve with butter.
Uppu Adai Recipe for Karadaiyan Nombu
Cook time – under 20 mins
Yields – 12
Preparation of Rice flour
Wash and soak raw rice for 3-4 hours. Drain the water completely and spread it on a cloth for 10-15 minutes. Then grind it to a fine powder or you can get it ground in the flour mill.
Then roast that rice flour in medium flame until you get a sandy texture. There should not be any moisture in the flour.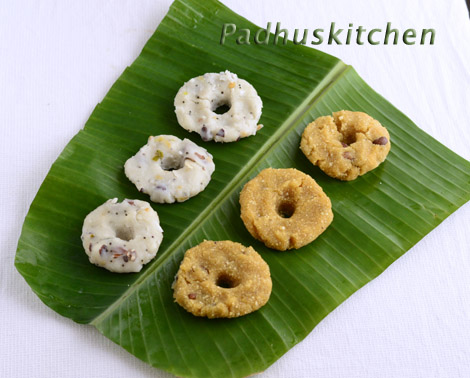 Uppu adai and Vella Adai
Ingredients needed
Rice flour – 1 cup
Water – 2 cup
Thinly sliced coconut bits – 1/4 cup
Karamani or black eyes peas – 11/2 tbsp cooked
For the seasoning
Oil -3 tsp
Hing – a generous pinch
Mustard -3/4 tsp
Urad dal – 1/2 tsp
Ginger 1 inch piece finely chopped
Green chilli – 2 finely chopped
Curry leaves -few
Method
Heat 3 tsp of oil, add hing, mustard seeds ,when mustard splutters, add urad dal, ginger, green chillies and curry leaves.
When dal turns light brown, add coconut bits, cooked black eyes pea and saute for a few seconds.
Add 2 cups of water, salt needed and bring it to boil.
When water starts boiling, reduce the flame and add rice flour slowly stirring continuously.
Cook till it leaves the sides of the pan.Allow it to cool.
Make balls, flatten it, make a hole in the center and steam cook for 15 minutes or until done.(Grease the idly plate before steaming)
Note
– The quantity of water may vary according to the rice flour used. Do not use ordinary store bought rice flour but you can use rice flour meant for preparing
idiyappams.
You can use the same rice flour for preparing vella adai also. In that case you must add 2 cups of water for 1 cup of rice flour. This will vary according to the rice flour used and quality of rice.
If you found this post useful, I would really love it if you pin it or share it with your Facebook fans or Twitter followers or Google+ circles today. All it takes is a simple click on the "pin it" "like," "share," "tweet," or Google+ buttons below the post. It will keep me motivated. Thank you!