Idiyappam is a common breakfast dish in Kerala and Tamilnadu. It is made of rice flour and is a very healthy breakfast as it is steamed cooked. Like
idly
it can be served even to sick people. We call this sevai.Earlier my mother used to prepare it in an elaborate manner, I do not have the time nor the patience to do all that ,so I always follow this easy method. The end product is the same which ever method you follow. It is a quick, healthy and easy recipe.You can use store bought idiyappam flour also but I will share with you how to make idiyappam flour and idiyappam.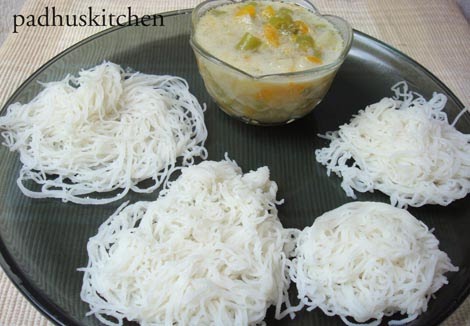 Idiyappam with vegetable stew
Idiyappam-How to make Idiyappam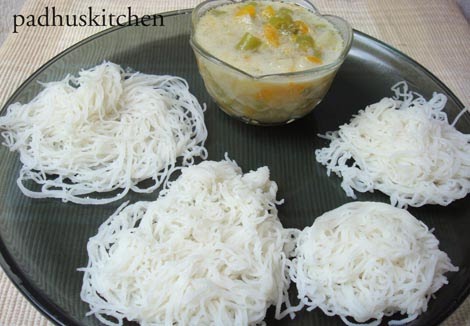 Prep Time : 10 mins
Cook Time
:
20 mins
Serves
:
2
Recipe Category
:
Breakfast-Dinner
Recipe Cuisine
:
South Indian (Kerala-Tamil Nadu)
Author
:
Padhu Sankar
Ingredients needed
Idiyappam flour – 1 cup ( homemade or store bought)
Water – approximately 1 – 1 1/2 cups
Oil – 2 tsp
Salt as required
Method of preparing the rice flour for Idiyappam

Soak raw rice in water for 2 hours, drain the water completely. Spread it on a cloth for 15-20 minutes.

Then give the wet rice to the mill for dry grinding. If that is not possible, grind it to a fine powder in the mixie.

Roast the rice flour until you get a sandy texture. (Do not over roast the flour till it changes colour ) After it cools, sieve it and store it in an air tight container and use it when ever required. Our Homemade Idiyappam flour is ready.

Latest Update – For more softer idiyappams (another method of making idiyappam flour)

Wash and soak equal quantities of raw rice (pacharisi) and par boiled rice (puzhungal arisi) together for 1 hour. After 1 hour, drain the water completely, spread the rice on a cloth and dry it completely in shade (inside the house).Then get it ground in the flour mill/rice mill to a fine powder. Dry it well in the shade or in the sun.Homemade Idiyappam flour is ready. Sieve it and store it in an air tight container or stainless steel box at room temperature.Make sure that there is no moisture in the flour before storing.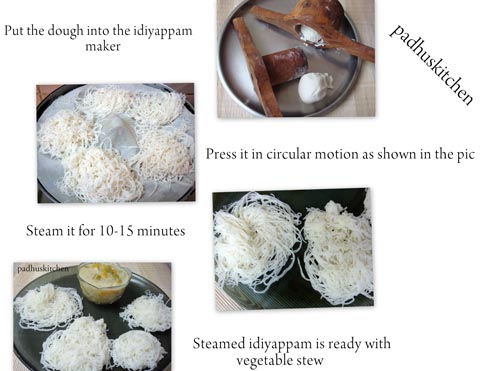 How to make Idiyappam using idiyappam flour
Method
Boil water well, add salt and oil to it.Add the boiling water little by little to the rice flour and make a soft dough. Knead it well.

Grease the inside of an idiyappam maker with oil and fill it with the prepared dough and press it in a circular motion on idly plate in the form of long strings.

Steam it for 10-15 minutes. I used my idli pot for steaming.

The basic idiyappam is ready. It can be served as such with vegetable stew, sweetened coconut milk, coconut chutney, Kurma or any gravy of your choice.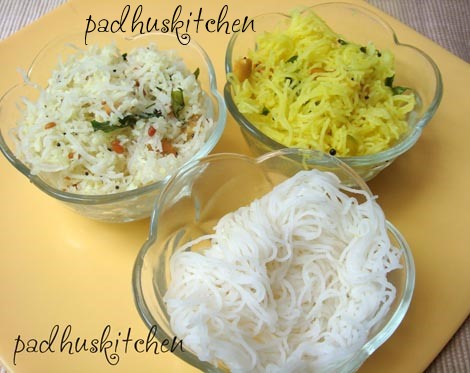 Plain idiyappam/sevai, coconut sevai, lemon sevai
You can also make other variations with the idiyappam/sevai like lemon sevai , coconut sevai, puli sevai etc which I will be posting soon.
Meet you all again with more interesting recipes, until then it is bye from Padhu of Padhuskitchen.