Vella seedai is a traditional snack prepared  for Gokulashtami. I have already posted the salted version, today I am here with the sweet version or sweet seedai. It is very easy to prepare and taste very delicious. Today let us learn how to prepare vella seedai following this easy recipe.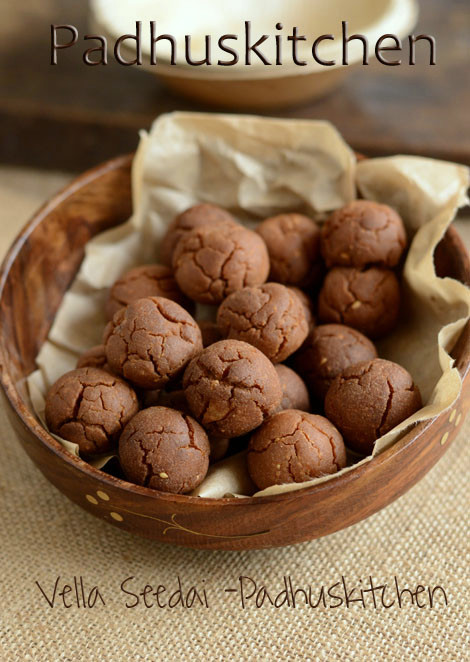 How to make Vella Seedai
Cook time – under 20 mins
Yields -around 20-22 vella seedais
Vella Seedai Preparation
Preparation of rice flour
Soak raw rice for 1/2-1 hour. Drain the water completely. Spread it on a cloth and dry it in shade (preferably inside the house under the fan). Let it dry completely. Then dry grind it to a fine powder. If you have a flour mill in your place, get it ground there as it is much easier. Then sieve it and keep it ready. You can prepare this even 4-5 days before Krishna Jayanthi. This rice flour can be used to prepare
thattai
, uppu seedai and
murukku
.
Urad dal flour
Dry roast urad dal until you get a nice aroma of roasted dal and the dal turns golden brown. Dry grind it to a fine powder, sieve it and keep it ready.
Ingredients needed
Rice flour – 1 cup prepared in the manner as said above and sieved.
Urad dal flour – 1 tsp
Jaggery – 1/2 cup (grated)
Cardamom -2-3 powdered
Ghee – 2 tsp
White Sesame seeds (ellu) – 2 tsp
Fresh coconut bits – 1 tbsp +1 tsp (optional)
Method
Dry roast rice flour until it is hot to touch (bearably hot). Do not over roast it, then your seedai will not turn out well.
Take jaggery in a kadai, add just enough water to cover the jaggery and keep it on low flame. Once the jaggery dissolves, switch off and filter it to remove impurities.  Do not prepare jaggery syrup.
Now rice flour and jaggery water is kept ready below. We will proceed to make the seedai.
(This is one of the easiest vella seedai recipe – no preparation of syrup)

In a vessel take rice flour, add urad dal flour, jaggery water, cardamom powder, ghee and ellu (sesame seeds).

Make a dough. In case if you want to use coconut bits, add that also. I divided the dough into two and added coconut bits to one part just to show you all. (If you add coconut bits, the seedai will be very tasty but will not have a long shelf life. So decide what you want). Let the dough rest for 7-10 minutes.

After 10 minutes, make medium shaped balls from the dough. If the balls are too big, the seedai will not get cooked inside, so make medium sized balls as shown below.

Now heat oil in a kadai. To check if the oil is hot enough, drop a small piece of dough inside the oil, if it raises to the surface immediately, then the oil is hot enough to fry the seedais. Now reduce the heat to medium.
Add 5-6 balls depending on the quantity of oil. Wait for a few seconds, let it get cooked a little, then gently turn over the seedai to the other side, so that it will get cooked evenly on all the sides. Do not stir too frequently as the seedais will break.

When they turn golden brown (see the color of the seedai below- a shade next to golden brown), remove it from the oil with a slotted ladle and put it on a paper towel or colander to drain off the excess oil.
Once it cools, it will become hard.
Repeat the same process for the rest of the dough.
This is a fool proof recipe, if you follow all the instructions correctly, there are hardly any chance of getting it wrong.Tips for beginners – Add water just to cover or soak the jaggery. Less water the better. Add jaggery water little at a time and make a dough. If you add too much water, you cannot make a ball, so take care while adding jaggery water. If you find that the jaggery water is not enough to make the dough, keep lukewarm water with you, so that if required, you can use it to make the dough. The dough should not be too stiff nor too loose. I have shown picture wise description so that you can have better understanding.

Uppu Seedai
Do check out my uppu seedai recipe and my whole collection of
Note – I frequently get questions asking me if ready made store bought rice flour can be used for making seedais and thattais. The answer is "No". You have to prepare rice flour in the above manner. You can use ready made flour if it is sold specially for making seedai, thattai or murukku.
If you found this post useful, I would really love it if you pin it or share it with your Facebook fans or Twitter followers or Google+ circles today. All it takes is a simple click on the "pin it" "like," "share," "tweet," or Google+ buttons below the post. It will keep me motivated. Thank  you!