Ribbon Murukku is also called ribbon pakoda or nada thenkuzhal. It is very simple to prepare and tastes great. I have given you 2 variations of preparing ribbon pakoda recipe– one is a spicy version and another is a very simple instant version of making ribbon pakoda. Both tastes great. You can try this easy murukku recipe for this Diwali and enjoy with your family.This can be had even as a tea time snack.Today let us learn how to make ribbon murukku/pakoda using this easy recipe.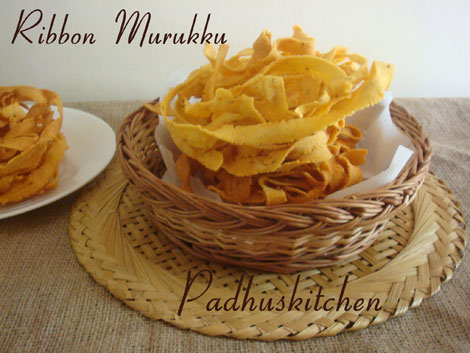 Ribbon Murukku-Ribbon Pakoda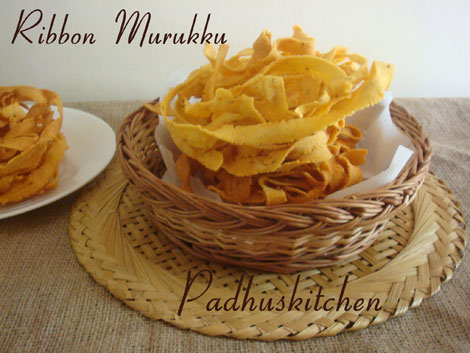 Prep Time : 15 mins
 Cook Time
: 20 mins
Yields
: 12-15 big size murukkus as in the pic
Recipe Category
: Snacks-Murukku
Recipe Cuisine
: South Indian
 Author
:Padhu Sankar
 
 Recipe # 1 (using wet grinder – with garlic)
Ingredients needed
   Boiled rice (pulungal arisi) – 2 cups
   Red chillies -10
   Garlic – 2 full pods
   Salt as required
   Bengal gram flour (chick pea flour/kadalai maavu) – 1/2 kg (500 grams)
   Asafoetida -1/4 tsp
   3 tbsp of hot oil for preparing the dough
   Oil for frying
Recipe #2  Without garlic (Instant- no grinding required)
   Bengal gram flour – 2 cups
   Rice flour – 2 cups
   Asafoetida/hing – a generous pinch
   Salt needed
   Chilli powder as needed
   Butter – little less than 50 grams
Recipe #1
Best ribbon pakoda recipe according to me. It requires no butter and has a nice flavor of garlic- we add garlic for digestion.
In this method, we soak boiled rice (pulungal arisi) and grind it in the wet grinder along with garlic, red chillies and salt.When making during festivals, you can skip garlic.
Preparation
Soak par boiled rice for 2 hours.
Wash, drain the water and grind it in the wet grinder to a
fine paste
adding water, peeled garlic, needed salt and red chillies. ( Do not add too much water for grinding)
Sieve bengal gram flour and keep it aside.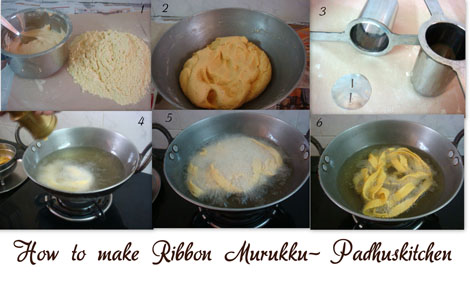 Method
Mix the ground rice batter + bengal gram flour + asafoetida + 3 tbsp hot oil + needed water to make a soft dough as in picture 2. Knead well. (You can taste the dough to check for salt)
Take a murukku maker and fix the ribbon pakoda making plate/disc. (pic 3)
Heat oil (to test if the oil is hot, drop a small ball of dough into the oil, if it raises to the surface immediately, then the oil is hot enough to fry the murukkus)
Put the prepared dough inside the murukku maker and press it directly into the hot oil in a circular motion. (pic -4)
You will get a sizzling sound when the murukku is getting cooked. Flip it over to the other side and fry both sides well till golden brown. (pic -5)
When the "shh sound/sizzling sound" ceases, the murukku is done. Use a slotted ladle to remove the murukku and drain it on a paper towel or colander.
Repeat the process for the rest of the dough.
Shelf life and Storage

When the murukku cools, store it in an air tight container and enjoy it any time of the day.Stays good at room temperature for a week.
Note – You can omit garlic if you do not like garlic flavor and if you are preparing for festivals.
Recipe #2 
No garlic, no grinding, instant version of Ribbon Nada Thenkuzhal Recipe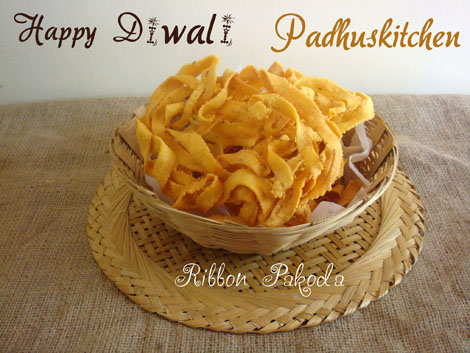 Method for Recipe #2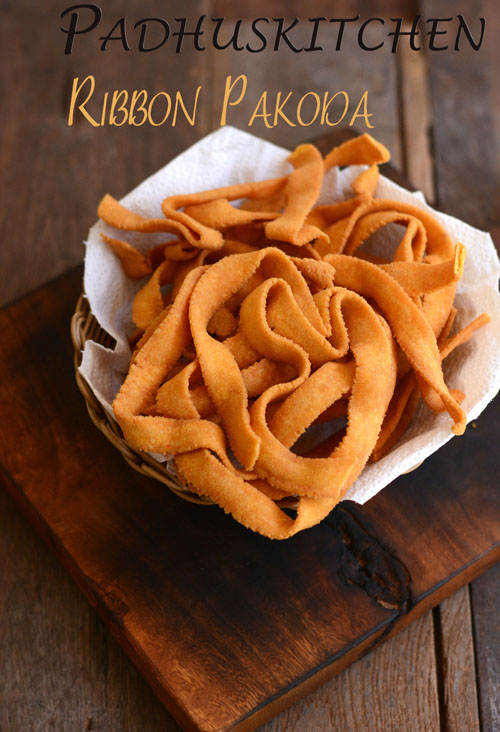 Mix both the flour (bengal gram flour and rice flour) well. Add hing, butter, salt, chilli powder and needed water and make a soft dough just as above.
Then make murukku following the same procedure as given for recipe #1.
Find more Diwali recipes in the link below. All the recipes are easy, tried and tested in my kitchen. You will also find step by step pictures for most of the recipes.
Diwali Sweet and snacks recipes
Padhuskitchen wishes you all a very Happy Diwali. Will meet you with more interesting recipes and tips after Diwali.