Badusha is a famous South Indian sweet made with all purpose flour and sugar. It is usually made for Diwali. Today let us learn how to make Badusha using this easy step by step Badusha recipe.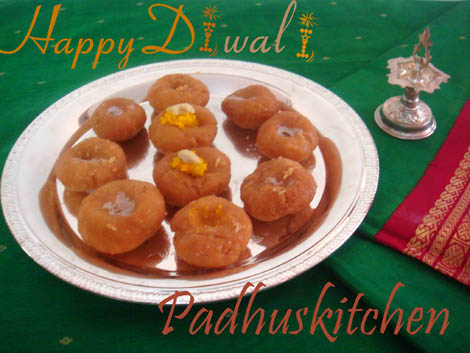 How to prepare Badusha sweet
Yields- 21 badushas


Ingredients needed
Maida /All purpose flour – 1/4 kg (250grams)
Ghee – 50 grams
Vanaspati /Dalda – 100 grams
Cooking soda – 1/4 tsp
For the sugar syrup
Sugar -3/4 kg
Water -2 cups
Milk – 4 tbsp
Cardamom powder – 1/4 tsp
Edible camphor /pachai karpram – a pinch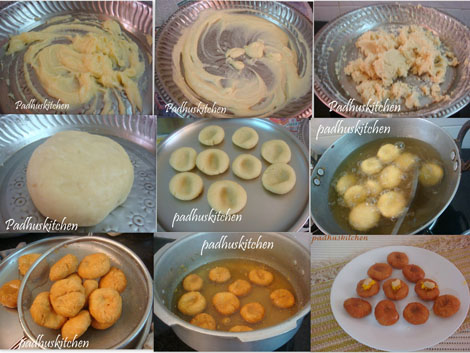 Preparation
Seive maida and keep it aside.
Method
First mix dalda, cooking soda and ghee nicely / vigorously for 10 minutes.(pic 1 and 2).Do it in the same direction.
Then add maida and mix well with your hands. Add water little by little and knead it into a soft dough.(I added around 1/4 cup and a little more water)(pic 3 and 4).This step is very important to get soft badushas.

Let it sit for 15 minutes .
After that divide the dough into equal lemon sized balls, flatten it a little and make a depression with your thumb in the middle. (see picture 5)
Meantime let us make the sugar syrup-


Take a pan, add water and sugar and bring it to boil. Add milk and boil for a few more seconds. The impurities (if any) in sugar will come to the surface. Remove it with a ladle.

Then boil sugar syrup till it reaches one string consistency. Add cardamom powder and pachai karpuram.
Badusha preparation



Heat oil first , add 4-5 badusha, then keep in

low flame

and fry the badushas until golden brown. Flip them gently and cook both sides. You need lot of patience for this. (pic 6 and 7)

Then drop them in the sugar syrup and let is sit for 6-7 minutes. (pic -8)
Then remove it from the syrup and place it in a plate. Let the sugar syrup dry. (pic-9)
If needed, garnish with grated coconut and cashew nuts on top while serving.
(I simply added yellow food color to the grated coconut and garnished just to show you)
To check whether the oil is hot, drop a little batter into the oil, if it rises immediately to the surface, then it is the right temperature to add the prepared badusha.
You have to keep the flame in

low

while frying the badushas. If the temperature of the oil is high, the badushas will turn golden brown fast but will remain uncooked inside.

To know what is one string consistency, refer my Boondi laddu recipe.
If the dough gets too soft, do not panic, just add more flour to set it right.This will stay fresh for a week .You can store it in an air tight container.

Enjoy this Diwali by preparing this yummy and delicious Badusha.
Find more Diwali Sweets and snacks recipes in the link below
Diwali recipes

Meet you all again with more interesting recipes and tips, till then stay tuned.