Oil Free Lemon Pickle – Lemon pickle without oil
This pickle does not have even a single drop of oil yet tastes very delicious. The preparation is also very simple. No cooking required. Do give it a try and you will not regret it.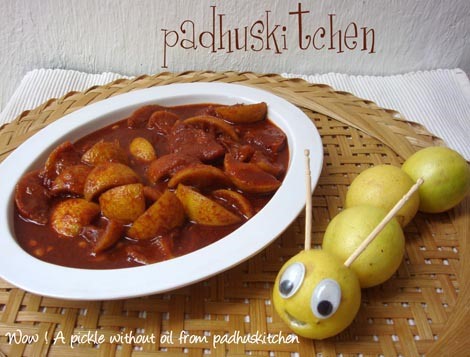 Wow!! oil free pickle from padhuskitchen
Ingredients needed
Juicy Lemons -12
Rock salt(powdered) – 1/2 cup
Turmeric powder – a generous pinch
Chillie Powder – 1/4 cup
Asafoetida/Hing – 1 tsp
Fenugreek – 1/2 tsp
Dry roast fenugreek seeds and powder it .
Method
Cut 9 lemons alone into 4 pieces. Remove the seed as much as possible.
Squeeze the juice of the other 3 lemons to it.
Add Salt and turmeric powder.
Keep it aside for 4 days. Mix it well every morning with a dry spoon.
On the 5 th day, add chillie powder, hing and fenugreek powder. Mix it well and it is ready for use .
This pickle goes well with curd rice and Aloo parathas also.
Note
It is advisable to use rock salt alone for pickles. But in case, if table salt is used, then reduce the amount of salt.
Other Pickle recipes
Meet you all again with another interesting post, till then it is bye from Padhu of padhuskitchen.