Vegetable Pickle – Vegetable Pickle Recipe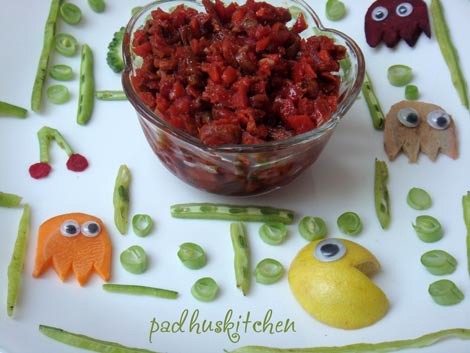 During my younger days, I was addicted to this pacman game
I have
used
almost all the vegetables used in this pickle for the the pacman presentation
As I have told you earlier that my mother is an expert in making pickles and this vegetable pickle is one of her specialties, which I am going to share with you all today. All of us in our family love this vegetable pickle, as the veggies in this pickle will be crunchy.Try this and you will love this. Only work is chopping all the vegetables finely. I used the onion chopper for chopping carrots and beetroots. If all the veggies are chopped and kept ready, then it takes only a few minutes to prepare this pickle .
Ingredients needed
Beetroot -1/2 of a beetroot
Bitter gourd -1/2 of a bitter gourd
Carrots – 2
Cluster beans/kothavarangai – 6
Beans – 6
Baby onions/Pearl onions – 10-12
Broad beans/ avaraikai – 6
Ginger – 2 inch piece
Lemon – 1 ( cut it into small pieces)
Green chillie -2 finely chopped
Total vegetables should be equal to 4 cups ( heaped).
You should not use vegetables with water content. You can include 4-5 pods of garlic if needed.
Chillie powder -30 grams
Crystal salt (preferable) – 90 grams (Use less if using table salt)
Oil – 1/2 cup
Turmeric powder – 1/4 tsp
White vinegar -5 tbsp
For the seasoning
Mustard – 1/2 tsp
Asafoetida 1/2 tsp
Preparation
Wash all the vegetable and wipe it dry. Leave it for an hour to dry.Then chop all the vegetables finely.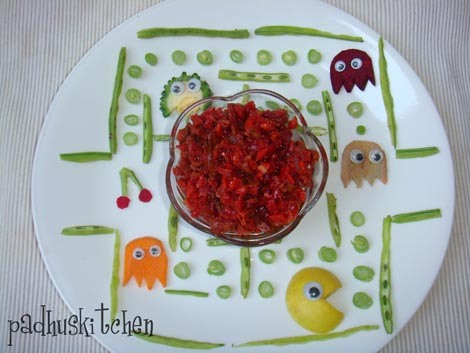 Method
Take veggies ( 4 cups heaped) in a vessel. Add salt, turmeric powder, chillie powder and white vinegar and keep aside.
Heat oil in kadai/pan and add mustard seeds. When mustard splutters, add asafoetida and pour the hot oil on the vegetables. Do not mix it immediately. Let the vegetables remain soaked in oil for some time.Leave it for 10 minutes, then mix it and bottle it.
It stays good in the refrigerator for 2-3 months if handled properly.
Sending this Vegetable Pickle recipe to Healing food -Onions started by Siri and hosted by Priya
And to Vegetable Marathon – Carrots started by Shilpa and hosted by PJ.
Meet you all with another interesting post, till then it is bye from Padhu of padhuskitchen .Take care.