My mother is very good in making pickles. Her garlic pickle is a hit among friends and relatives. So naturally I learnt to prepare all the pickles from her.You can definitely look forward for a collection of pickle recipes in my blog though this is the first one I am posting. I usually prefer home made pickles as store bought ones are loaded with preservatives. Pickles are very simple and easy to prepare and does not take much time. My mother usually adds crystal salt for pickles and the reason she gives is that it does not get spoiled easily. Now we have gooseberry season in India, and the markets are flooded with gooseberries. So I thought if I post it now, it will be useful for many. Today we will learn how to make gooseberry pickle (nellikai urugai) following this easy recipe with step wise pictures.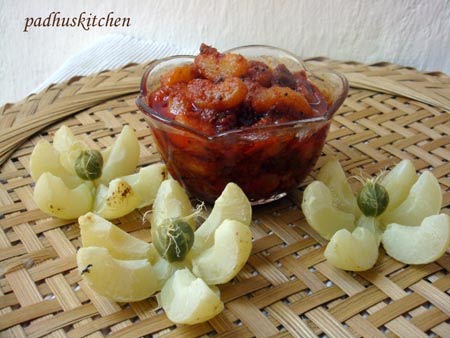 Gooseberry Pickle-Nellikai Urugai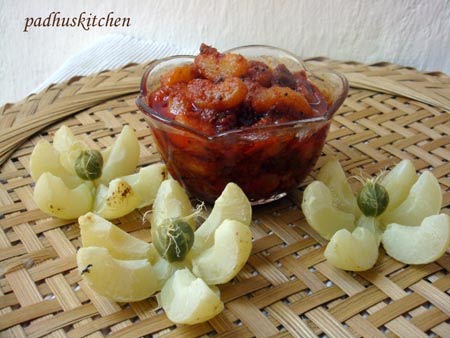 Prep Time : 15 mins
Cook Time
:
15 mins
Recipe Category
:
Pickle
Recipe Cuisine
:
Indian
Author
:
Padhu Sankar
Ingredients needed
Gooseberry -1/2 kg
Chilli Powder – 7 tsp
Salt – 7 ½ tsp (Powdered crystal salt)
Turmeric powder – 1/4 tsp
Oil – 1/2 cup (standard measuring cup)
Asafoetida-hing – 3/4 tsp
Mustard seeds- 1 tsp
Fenugreek powder/vendhaya podi – 1 tsp
Dry roast fenugreek seeds and powder it. Keep it aside.
Wash gooseberries well and steam cook for 6 – 7 minutes. Do not overcook. When you press the gooseberries, it should open in segments like a flower (see picture above).That is the right time to switch off the gas.

After it cools, discard the seeds and separate it into segments. Spread it well on a plate (not as shown below) and dry for 2 hours.
Method

Heat oil, add mustard seeds, when they splutter, add asafoetida, gooseberries and turmeric powder.

Do not add chilli powder immediately. Cook covered for 5 – 6 minutes, then add chilli powder, salt and cook for few more minutes till oil separates.

Then add a tsp of fenugreek powder, mix well and remove from flame. Leave it to cool.
Storage and Shelf Life
Store it in a clean, dry glass bottle and refrigerate it. Take needed quantity in a small cup for daily use. Do not use wet spoon. It stays good for a month in the refrigerator. Mix it well once in a week.
Note – Pictures above show more than half kilogram of gooseberries
If you use freshly ground chilli powder, it tastes awesome.
Meet you all again with more interesting recipes, until then it is adieu from Padhu.