This is a very simple recipe which goes well with appam and idiyappam. It can be done with a single vegetable or a combination of vegetables. Today we will learn how to make mixed vegetable stew following this easy recipe.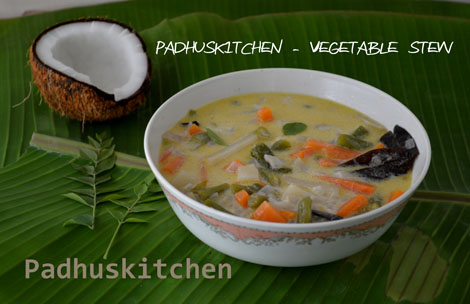 How to prepare Vegetable Stew
Prep time -under 30 mins
Cook time -under 30 mins
Serves -2
Ingredients needed
Onion -1
Ginger – 1 inch piece
Garlic – 3 cloves
Green chilli -2-3 slit
Mixed vegetables – 2 cups ( you can use a mix of carrot, beans, potato, cauliflower, peas)
Thin coconut milk – 1 1/2 cup
Thick coconut milk – 3/4 cup
Pepper powder – 1/2 tsp
Salt as required
For the seasoning
Bay leaf -1
Cloves -2
Cinnamon – 1 inch piece
Final seasoning (optional)
Coconut oil – 1 tsp
Curry leaves – few
Preparation
Chop all the vegetable into medium sized pieces or cubes.
Finely chop onion, garlic and ginger.
Use ready made coconut milk or extract coconut milk from 1 medium sized coconut.
Method
Heat oil, add the ingredients mentioned under seasoning, saute for a few seconds, then add onions and garlic.
Saute till onions turn transparent.(do not brown the onions)
Then add ginger, green chilli and the rest of the vegetables.
Add thin coconut milk, need salt and pepper powder. Cook till the vegetables are soft.
Once the vegetables are cooked, add thick coconut milk and heat it a little.(Do not boil after adding the thick coconut milk)
For flavor, heat a tsp of coconut oil, saute curry leaves in it for a second and add to the above.
The consistency of the stew should be thin.
Serve with Idiyappam, appam (coming soon) or any Indian bread.
If you found this post useful, kindly consider linking to it or sharing it with others or like us on Facebook or follow me on Twitter or join me on Google Plus to keep up to date with Padhuskitchen.