I am not a big fan of spaghetti but my children are very fond of it, so I prepare it for them. It is very easy to prepare and kids will love it for sure.Today we will learn how to make an easy Vegetarian Spaghetti Recipe.
Easy Vegetarian Spaghetti Recipe
Prep time – under 20 mins
Cook time – under 30 mins
Serves – 1
Ingredients needed
Spaghetti-200 gms
Tomato – 4-5
Onion – 1
Garlic – 1 1/2 tbsp
Olive Oil – 1 tbsp
Salt and pepper powder as required
Oregano as needed
Cheese -15 grams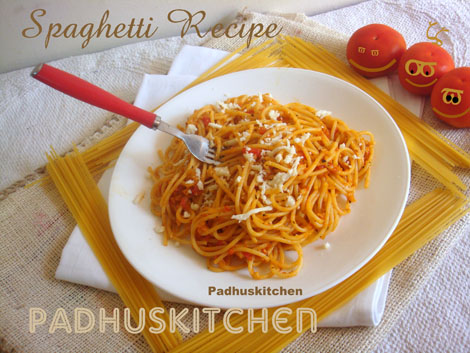 Preparation
Chop onions and garlic finely.
Put tomatoes in boiling water for 3-4 minutes and remove it. After it cools, peel the skin and puree it.
How to cook Spaghetti

Boil plenty of water in a pan. Then add the spaghetti with a tsp of salt.
Cook stirring inbetween to prevent the spaghetti from sticking to each other. Cook till tender (It should be firm but tender, so do not overcook.) Check it by tasting it.
Now drain the spaghetti into a colander and pass cold water through it. Keep it aside.
Now we will prepare the sauce
In a pan, heat a tbsp of oil, add garlic, onion and saute till onions become translucent.
Then add tomato puree and salt needed.
Once it starts boiling, lower the heat and let it cook until the sauce thickens. Add the spaghetti to it and toss it well, so that the sauce gets coated evenly with the spaghetti. Add pepper powder to taste.
Sprinkle oregano and grated parmesan cheese and serve hot.
Note – If you do not have olive oil, you can use any other cooking oil but olive oil is preferable.
If you cannot get parmesan cheese, use any other variety.
If you like this post, kindly consider linking to it or sharing it with others or fan us on Facebook