Farfalle are a type of pasta. They are commonly known as "bow-tie pasta".The name is derived from the Italian word farfalla which means "butterfly".Today we will learn how to make a very easy Vegetarian Pasta recipe.
There are three easy steps-
1.How to cook pasta
2.Preparation of pasta sauce
3.Cooking of vegetables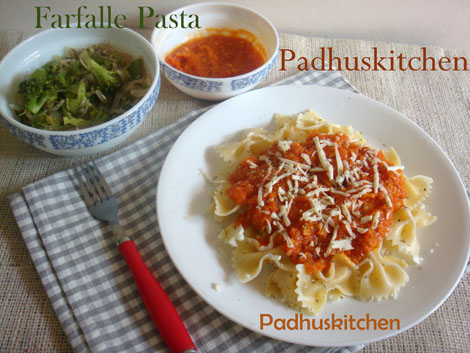 Sauteed vegetables -Tomato sauce – Pasta topped with tomato sauce and grated cheese
1.How to cook pasta (I cooked 2 1/2 cups of farfalle pasta)
Take plenty of water in a pot and bring it to rolling boil .
Add pasta to the boiling water with a little salt.Keep stirring it to prevent it from sticking to the bottom of the pan.
Cook pasta till tender.You can check if it is correctly cooked by tasting it. It should be tender yet firm.
Now drain the cooked pasta into a colander and run cold water through the pasta for about 10 secs. Keep it aside.
2.Pasta Sauce Recipe
Ingredients needed
Ripe tomatoes – 4-5
Onion – 1 finely chopped
Garlic – 2 tbsp minced
Olive oil -1 1/2 tbsp
Salt and black pepper powder to taste
Tomato Ketchup – 2 tbsp
Oregano powder -1/2 tsp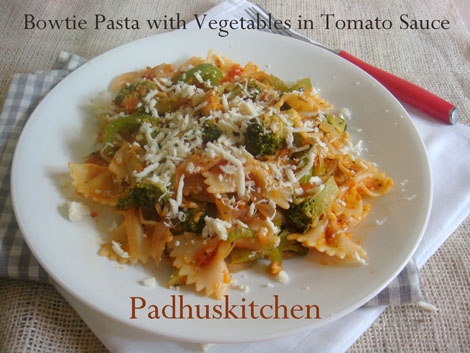 Method
Put tomatoes in boiling water and keep it closed for 5 minutes. Remove the skin and puree it in a blender.
Heat oil, fry garlic and onion till they become soft.
Add tomato puree, tomato ketchup and cook until the sauce is boiling, then reduce heat and simmer for another 10 minutes.
Add oregano, salt and pepper powder.
3.Cooking Vegetables
Ingredients needed
Onion -1
Garlic – 1 tbsp
Broccoli – 10-12 bite size florets
Capsicum /Bell pepper – 1 cup ( mix of red, yellow and green ) ( I used only green as I did not have the other colors)
Salt and pepper powder to taste
Oregano powder
Olive oil – 1 1/2 tbsp
Preparation
Put broccoli in boiling water for 3-4 minutes.Drain the water and keep it aside.
Heat olive oil, add finely chopped onion and garlic and saute till onions become light pink.
Add broccoli, capsicum and cook for a few minutes in high flame.Keep stirring it continuously. Do not over cook.The vegetables should be crisp.
Then sprinkle a little oregano, add salt and pepper powder to taste.
How to serve
For garnishing – Parmesan cheese
Add sauteed vegetables and cooked pasta to the prepared sauce, toss it well, garnish with grated parmesan cheese and serve. (picture -2)
Top pasta with sauce, garnish with parmesan cheese and serve with sauteed vegetables. (picture-1)
Note
You can add mushrooms also if you like.
It is preferable to use olive oil, but if you do not have it, you can use any flavorless oil.
Oregano and cheese are available in all departmental stores. I bought it in Nilgiris.
You can use any variety of pasta and follow the same recipe.
This recipe serves 2.
You might love my pasta in white sauce recipe also
Meet you all with more interesting recipes.