Vinayagar Chaturthi is on 1 st of September this year. It is is celebrated as the birthday of Lord Ganesha. Traditionally we make Sweet Kozhukattai (Modakam), Uppu Kozhukattai (Savory version) and Mani Kozhukattai for Ganesh Chaturthi. Today let us learn how to prepare Uppu Kozhukattai by following this Easy Uppu Kozhukattai recipe with step wise pictures
.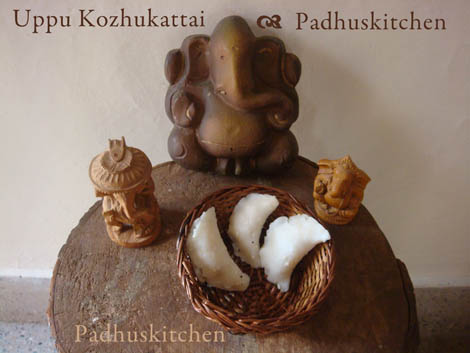 Prep Time : 20 mins (excluding soaking time)
 Cook Time : 25 mins
 Yields: 10-15 Uppu Kozhukattais
 Recipe Category: Festival Recipes-Snacks
Recipe Cuisine: Indian
Ingredients needed
Ingredients needed for the rice flour dough
   Rice flour -1 cup (prepare it as mentioned in my Vella Kozhukattai Recipe.
   Water – 1 – 1 1/4 cup (approximately)
   Salt – 1/4 tsp
   Sesame seed oil – 1 tsp
For the Ulundu stuffing
   Whole skinned Urad dal-Mulu Ulundu – 1/2 cup
   Bengal gram dal/kadalai paruppu – 1-2 tbsp
   Green chilli – 4
   Hing/asafoedida – a pinch
   Salt needed
For the Ulundu stuffing seasoning
   Oil -1 tsp
   Mustard seeds -1 tsp
   Curry leaves -4-5 tender leaves
Preparation
Note
– (Do not use ordinary rice flour – prepare it as I have mentioned it in my 
Sweet Kozhukattai Recipe
or buy readymake kozhukattai flour.)
Soak urad dal and bengal gram for 2 hours. Drain the water completely and grind it with green chilli, hing and needed salt coarsely without adding water just as you grind it for
paruppu usili
.

Boil water with salt and a tsp of oil, when it starts boiling, simmer and add the rice flour stirring continuously so that it does not form lumps.

Cook for 2 -3 minutes and switch off the flame. Since we are going to steam the Kozhukattai, you do not have to cook fully.
Transfer the rice dough to a plate. Keep a bowl with little warm water mixed with a tsp of oil besides you.

Grease your hands with oil and knead the dough well when it is warm. If you feel it is too dry, you can sprinkle a little warm water+oil mixture and knead it to a smooth dough. Keep it covered with a damp cloth.
Meantime we will prepare the Stuffing for the Uppu Kozhukattai.
Steam the ground dal (covered) for 15 minutes in an idly cooker or steamer.

After it cools, crumble it well. You can use the mixie for this-just blitz it for a second. See picture of the crumbled dal in the mixie below. Now we will season the dal.

Heat 1 tsp of oil, add mustard seeds, when mustard seed splutters, add curry leaves and the steamed crumbled dal. Cook for 2-3 minutes and remove it from flame.
Now our rice flour dough (outer covering for kozhukattai) and the ulundu stuffing is ready.
Now we will make the Uppu Kozhukattai
Divide the rice flour dough equally and make small lemon sized balls out of it. Grease your palms with oil, flatten the ball into round shape or a mini cup with the other hand. You can dip your fingers in that water + oil mix, if needed to make it easier.
Place 2-3 tsp of stuffing on the prepared round dough, fold it and seal the edges as in the picture below.
Always keep the rice flour dough covered with a damp cotton/muslin cloth to prevent it from drying.

Repeat the same process for the rest of the dough and the stuffing. Once every thing is ready, arrange all the prepared Kozhukattais on a greased idli plate and steam cook for 10-15 minutes or until done. Wait for 10 minutes to cool down and then remove it from the idly mould.
If you have excess rice flour dough, you can make small balls out of it and steam it along with the uppu kozhukattai.You can use that for making mani kozhukattai or ammini kozhukattai

Delicious Uppu /Savory Kozhukattais are ready to be served. Enjoy preparing it this Vinayaka Chaturthi.
Note
The quantity of water for preparing the rice flour dough (kolukattai mel mavu) varies from 1 cup – 1 1/2 cup depending on the quality of rice.
I have mentioned
another method to prepare rice flour dough
in my
Ammini Kozhukattai
recipe which involves soaking rice and grinding it. Kindly check it out and follow whichever method is comfortable or easy for you.