Kolukattai recipe – Modak recipe – How to make Kozhukattai – Ganesh Chaturthi recipe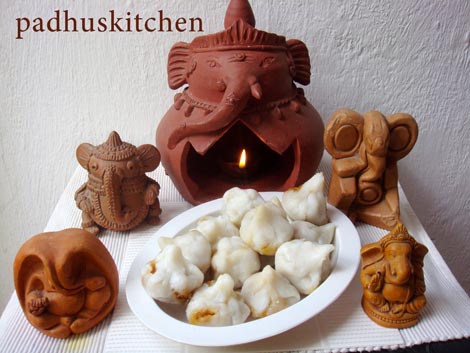 Yummy kolukattai is ready
Vinayaga Chaturti /Ganesh Chaturti is the birthday of Lord Ganesha which is celebrated in a grand manner in India. It is a Hindu festival and also my favourite festival and Lord Ganesha is my favorite god. I love him so much that I have a wide collection of Vinayagar idols in terracotta, ceramic and what not. I still love buying idols make of clay and the colorful umbrellas. You can see some of my collections in the pictures.
Kozhukattai is a favorite dish of Lord Ganesha. It is made with rice flour, coconut and jaggery stuffing. My mom makes varieties of kozhukattais and I am sharing the one I love the most.You might be wondering why I am posting this recipe now itself when Ganesh Chaturti is only next week–this is for those who want to make kolukattai/kozhukattai for Vinayaga Chaturti but do not know the recipe or the process involved.
I am also sharing with you the method to prepare the rice flour for making Kozhukattai. The kolukattai will be hard if you use store bought rice flour. Either you have to prepare it at home or you must buy rice flour sold specially for making kolukattais.
How to prepare rice flour for making Kozhukattai/Kolukattai
Wash and soak raw rice for 2 hours. Drain the water well, spread it on a cloth for 15 minutes and dry grind it to a fine powder. Get it ground to a fine powder in a nearby rice mill or powder it finely in the mixie/food processor. Dry it

well

in the sun or shade. Sieve it and store it in an air-tight container and use whenever required. Now rice flour for kozhukatti is ready. (You do not have to fry the rice flour as you do for idiyappam flour).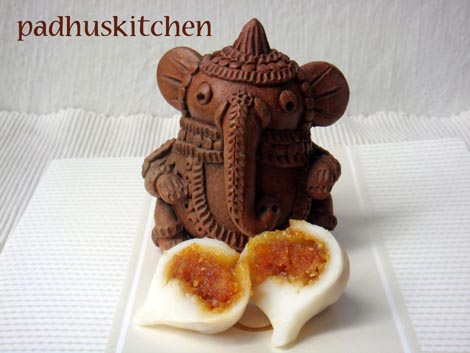 One of my favourite Ganesha
Kozhukattai Recipe-Modak recipe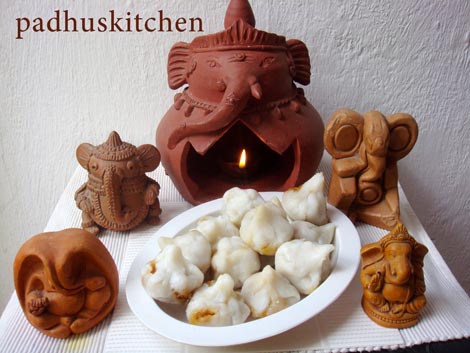 Prep Time : 30 mins
Cook Time
:
20 mins
Yields
:
25 Kozhukattais
Recipe Category
:
Festival Recipe
Recipe Cuisine
:
South Indian
Ingredients needed
Rice flour -1 cup
Oil -1 tsp
Jaggery – 1 cup
Coconut -1 cup grated
Cardamom powder – 1/4 tsp
Ghee -1 tsp
Method
Heat 1 1/4 cup of water, add a tsp of oil to it and then add the prepared rice flour stirring continuously with the back of the ladle. Mix the rice flour well with the back of the ladle and so that there are no lumps.


Cook on low flame for 5 minutes stirring frequently. (Note -the quantity of water will differ from 1 cup -1 1/2 cup for 1 cup of rice flour depending upon the quality of rice)


Transfer the dough to a plate and let it cool. Keep a small bowl of warm water mixed with 1-2 tsp of oil besides you. Once the dough is warm, dip your finger in the water+oil mix and knead it to a smooth dough. If you feel that the dough is too dry, then sprinkle a little of that water+oil mixture and then knead the dough nicely. Cover it with a damp cloth, close it with a lid and keep it aside.

In the meantime, we will prepare the stuffing.

Stuffing for the kozhukattai

Melt the jaggery on low flame in half a cup of water and filter to remove impurities.

Heat jaggery water and when it starts boiling, add grated coconut and mix well.


Add a tsp of ghee and cook until it starts to thicken.


Add cardamom powder and mix well. As the stuffing cools, it will thicken further. So you can switch it off a stage before that. See it it that you can make balls out of it. If not cook for a few more minutes. Now the stuffing for kozhukattai is ready. When it cools a little, make small balls out of it and keep it aside.


Now our stuffing and the rice flour dough for making the kozhukattais are ready.

Make even sized balls from the stuffing.

Now take the rice flour dough and make small balls from it. Work batch by batch as the rice flour will dry very quickly. (always keep the dough covered with a damp cloth to prevent drying)


Grease your palms with oil, place a ball of dough on your palm and flatten it into a small circle as shown in the picture below. You can dip your fingers in the water+ oil mix, if needed to make it easier.

Now place a ball of the prepared jaggery stuffing.

Bring all the corners together and close it. Give it a nice kolukattai shape as seen in the picture below.

Repeat the process for all the rice flour balls. If you have excess jaggery balls/stuffings, do not worry, you can eat it as such. I love it.


Arrange all the prepared Kozhukattais on a greased idli plate and steam cook for 10-15 minutes or until done.Wait for 10 minutes to cool down and then remove it from the idly pan and enjoy!!

Delicious Kozhukattais are ready.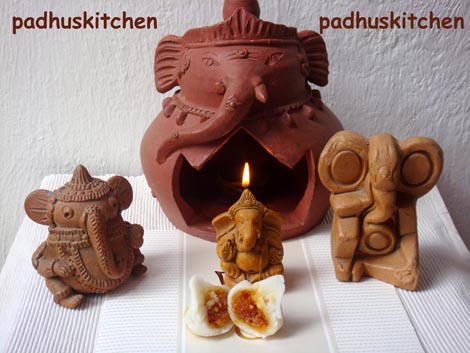 Few of my collections-along with sweet (vella) kozhukattai
Check out more Ganesh Chaturthi recipes
Check out my another Method of making Kozhukattai Mel Mavu (rice flour dough)
Refer my Ammini Kolukattai recipe for another method of preparing the rice flour dough. It is prepared by soaking rice and then grinding it to a smooth paste.
If you found this post useful, I would really love it, if you pin it or share it with your Facebook fans or Twitter followers or Google+ circles today. All it takes is a simple click on the "pin it" "like," "share," "tweet," or Google+ buttons below the post. It will keep me motivated. Thank you!