Chilli Paneer is a very popular Indo Chinese recipe and also my favorite appetizer. It is a very delicious dish made with paneer – a must try dish for all paneer lovers. It can be served as a side dish for Vegetable Fried rice, noodles or as a starter. Today we will learn how to make chilli paneer following our easy chilli paneer recipe.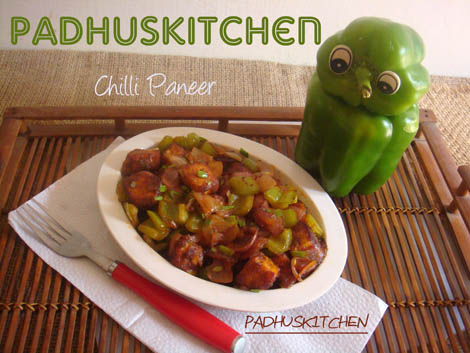 How to prepare Chilli Paneer
Serves – 2
Ingredients needed
Paneer – 200 grams – How to make paneer at home
Onion -2 medium size
Green Chilli – 1 slit
Ginger garlic paste – 1/2 tsp
Capsicum – 1
Soya sauce – 1 tbsp
Chilli sauce – 1 tsp
Tomato ketchup – 1 1/2 tsp
Oil – 1 tbsp
Oil for shallow frying paneer
Spring onion greens for garnishing
For marinating paneer
Cornflour – 1 1/2 tbsp
All purpose flour/ maida – 2 tsp
Ginger garlic paste – 1/2 tsp
Pepper powder – 1/4 tsp
Salt to taste
Preparation
In a bowl mix cornflour, ginger garlic paste(1/2 tsp), salt needed, pepper powder with very less water.
Cut paneer into cubes and mix it well with the above.Sprinkle maida over it and mix well. Let it marinate for 20-30 minutes.
After that, shallow fry the paneer on all sides till golden brown and keep it aside.
Cut capsicum and onions into medium sized pieces or squares.
Method
Heat a tbsp of oil in a pan, add onion, green chilli and saute till onions turn transparent.
Add ginger garlic paste and saute for a few more minutes.
Add capsicum, soya sauce, chilli sauce, tomato ketchup, needed salt and fry on high heat, stirring continuously. The capsicum should be crispy, so do not over cooked them.
Reduce the heat, add the fried paneer, mix well and cook for a few more minutes till the paneer is well coated with the sauces. Garnish with finely chopped spring onion greens.
Serve it as a starter or as a side dish for Vegetable Fried Rice or Noodles.
More Indo Chinese Recipes
A list of Paneer Recipes for all Paneer lovers
Paneer Butter Masala (Restaurant style)
Meet you all with more tips and recipes.Stay tuned!