This easy vanilla cake has no eggs and also no butter and can be prepared in a few minutes time as you do not have to beat the eggs or the butter. This recipe is from Nita Mehta's book which I brought it from the library a few days back. As I have already posted Vanilla cake with eggs, I wanted to make an egg less version of it for those who do not include eggs in their diet.I have made eggless cakes with condensed milk but this is the first time I am trying an eggless cake with curd (without condensed milk). The cake turned out well and everyone at home loved it very much.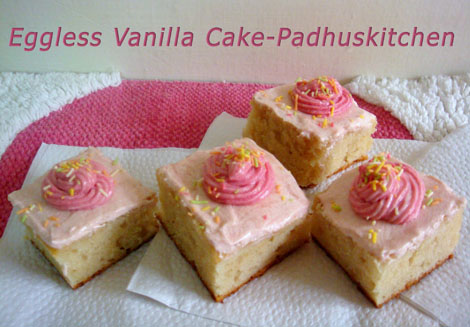 How to make Egg less Vanilla cake
Ingredients needed
All purpose flour/Maida – 1 1/2 cup
Thick curd – 1 cup
Sugar -3/4 cup (1 cup if you want it very sweet)
Baking Powder – 1 tsp
Baking soda – 1/2 tsp
Cooking Oil – 1/2 cup (any flavourless oil)
Vanilla essence -11/2 tsp
Preparation
Seive maida 3 times and keep it aside.
Pre heat the oven for 10 minutes.
Grease and flour the baking tray and keep it ready.(I used an 8 inch square baking tray).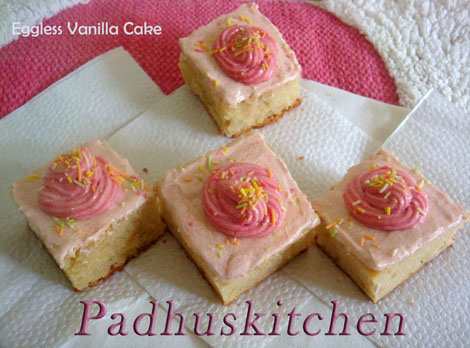 Method
Mix sugar with curd until sugar dissolves.
Now add baking powder and baking soda to the above and mix well. Leave it for 5 minutes.You will see bubbles appearing. Now add oil, vanilla essence and mix well.
Then add maida little by little and combine well with the wet ingredients.Mix well until creamy.
Pour the mixture in the greased baking tray and bake in a preheated oven for 25-30 minutes (180 degree C ) or until a toothprick inserted in the center of the cake comes out clean.
Wait for the cake to cool completely before removing it from the pan, then cut it and enjoy!
Butter icing
Recipe adapted from joyofbaking
Ingredients needed
Butter – 1/2 cup
Icing sugar – 2 cups
Vanilla essence -1 tsp
Any food color of your choice
Method
Sieve icing sugar.In a bowl, cream together butter and vanilla essence.Then add icing sugar, little at a time and beat well. Keep it in the refrigerator for 15-20 minutes.
Cut the top and the sides of the cake evenly.
Spread the butter icing on the top of the cake evenly with a spatula and pipe design of your choice.
To get the desired spreading consistency,you can add little milk if needed.
If you want pipe some designs and want it thicker,add more sugar.
I am a beginner in cake decorations but just wanted to share with you how I did this simple butter icing.
Note – Cool the cake for at least 2 hours before frosting..
The cake tasted great with the butter icing. You can bake this eggless vanilla cake in pressure cooker also as I have done for my vanilla cake with eggs
Enjoy!