I have received many queries and emails from friends and many readers asking me for alternative methods of baking cakes which has lead me to do this post. As we know that in India, baking is not that common and many households do not have an oven, but that should not deter one from baking cakes.When I was small, my mother used to bake so many cakes using pressure cooker method as she did not have an electric oven at that time. As this method has be tried and tested so many times in my house, I can assure you that your cake will turn out well. Today we are going to learn

how to make vanilla cake in a pressure cooker

. I have put chocolate frosting for it as my daughter loves it very much.
Don't have an oven, don't worry, you can still bake cakes this Christmas at home with cooker and surprise your fam

i

ly.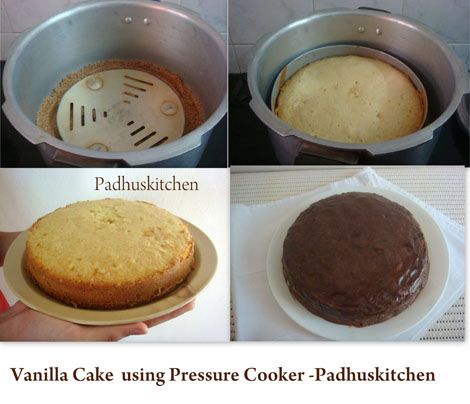 Easy Home Made Basic Vanilla Cake recipe
Adapted from here


Ingredients needed
All purpose flour (maida) – 1 1/2 cup
Sugar (powdered) -1 cup
Egg -2
Butter – 1/2 cup (125 grams)
Baking powder – 1 1/2 tsp
Salt – 1/4 tsp
Vanilla essence – 1/2 tsp
Milk – 1/2 cup
Preparation
I used the aluminum cooker vessel for baking this cake. Grease the vessel with butter and dust flour. Keep it aside.
Sieve maida, baking powder and salt together twice.
Important point to be noted– Bring everything to room temperature.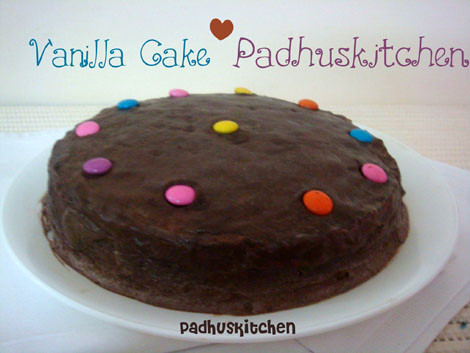 Method
Cream butter and sugar well .Use an electric beater or an wooden ladle but beat well untill light and fluffy.
Add eggs and beat again.
Add milk, vanilla essence and beat for a few more minutes.
Fold in flour until well incorporated.
Pour the prepared batter in the prepared cooker vessel.
How to bake cake in Pressure cooker
Fill the cooker with sand till 1 1/2 inches and place the plate you get along with the cooker on top of it. (picture -1). If you cannot get sand, you can also spread salt all over the bottom/base of the cooker.
Preheat the cooker for 5 minutes on high flame with the sand.
(We are following the same principle as in the oven but here the sand is heated and the cake gets cooked in the heat produced by the sand.)
Now, keep the flame in low and place the vessel with the cake batter carefully inside the cooker.
Close the cooker, watch TV or relax as it will take 4o minutes to 1 hours for the cake to be done.
Check it after 40 minutes by inserting a wooden toothpick in the center of the cake, if it comes out clean, your cake is done, otherwise cook for some more time. (Mine took 1 hour)
Important points to be noted while baking cake in pressure cooker

Do not use the rubber gasket.
Do not use the weight. (weight valves)
Do not pour water inside the cooker as we are not steaming the cake.
It is preferable to use old cooker. Do not heat empty cooker without the sand as your cooker will get damaged.
As promised I have posted alternative methods of baking cakes for those who do not have an oven. Other methods given below-
Steaming ( banana cake made my steaming method)

Pressure cooker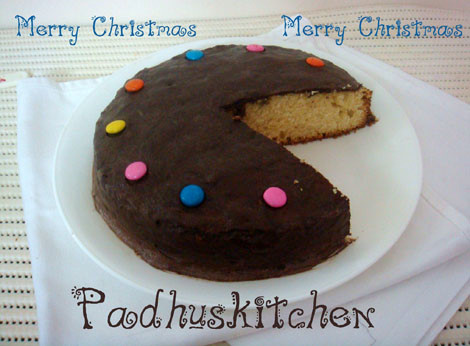 Easy chocolate frosting recipe
Cocoa powder -1/3 cup
Butter -120 grams
Powdered sugar – 1 cup
Hot milk/ hot water -1 -2 tbspVanilla essence -1 1/2 tsp
Method
Beat cocoa powder and butter together.
Add sugar, vanilla essence and milk and mix well.
Keep the mixture in the refrigerator for 15 minutes and then apply it on the cake using a spatula.
Cool the cake before applying the icing. Dip the spatula in hot water to get a smooth finish.
Decorate it with silver balls or chocolate shaving or gems or edible sprinkles. It is all left to your imagination and with whatever you get in India.
For the above cake, you need only half of the above icing recipe.
This Simple vanilla cake and frosting is a great recipe which even beginners can try.
Check out more cakes and cookie recipes
You can bake Eggless Vanilla Cake also in pressure cooker.

Meet you all with more interesting recipes and tips, till then it is bye from Padhu of Padhuskitchen.