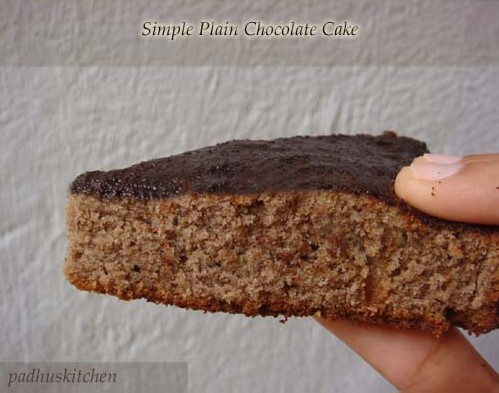 Hurray! I have completed 50 posts. So I wanted to celebrate it with a Chocolate cake. Before that I would like to share with you all, a few things. I started blogging just to keep a record of all my recipes. Another reason – may be when my kids grow up they can refer their mom's blog from wherever they settle down. Isn't it? But now I got hooked to it and I have also learnt many things after coming here. Your motivating comments has encouraged me to do more. I must thank you all for your encouraging comments and feedback. Thank you very much buddies. I am an amateur in baking and have not gone beyond basics of baking. I learnt this from a friend of mine who is very good in baking cakes. Though I do not have any experience in baking cakes, I think I have done a fairly good job. I am telling you this so that even those who have not tried their hands in baking can easily prepare this cake. Since the recipe is very simple and also does not take much time, I am sharing it with you. Now to the recipe-
Simple Plain Chocolate Cake
Ingredients needed
Butter – 250 grams (Unsalted)
All purpose flour (Maida) -250 grams
Sugar -250 grams (powder it)
Eggs – 4
Baking powder -1 ¼ tsp
Cocoa powder -3 ½ tbsp
Curd -1 ½ tbsp ( it should not be sour)
Vanilla essence -1 tsp
Method
Sieve flour, baking powder and cocoa powder together twice.
Beat the butter till soft and fluffy with an electric hand mixer.
Add the powdered sugar and beat well.
Add eggs and beat for a few more minutes.
Then add flour little by little and fold it in the same direction with a ladle. (Do not use hand mixer for this)
Add Curd and 1 tsp vanilla essence and mix it.
Grease the baking tray with butter and dust little flour on it. Pour the batter in the tray evenly.
Preheat the oven for 10 minutes at 180 degree C and bake for 30 minutes or until a toothpick inserted in the center of the cake comes out clean.
Cool it for 10 -15 minutes and transfer it on a wire rack.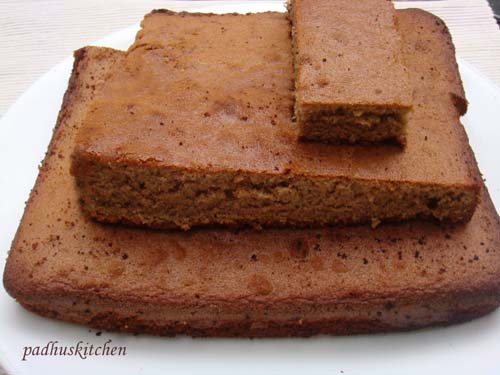 Plain chocolate cake
Decorate it as you wish. Enjoy.
Adieu from Padhu.