Pineapple Pachadi is a very delicious and exotic dish which has a sweet and and tangy taste. It is a part of the traditional Kerala Sadhya. I prepare it often as I love this pachadi very much. Today we will learn how to make Pineapple pachadi (Kerala style) following this easy recipe.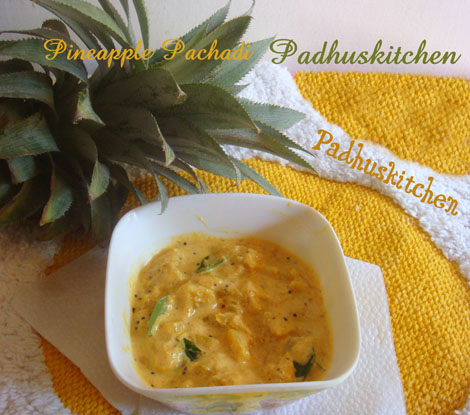 Pineapple Pachadi Recipe
Prep Time: under 10 minutes
Cook time: under 20 minutes
Serves -1
Ingredients needed 
Pineapple chopped – 1 cup
Chilli powder – 1 tsp
Turmeric powder – 1/4 tsp
Curd – 1/4 cup + 2 tbsp
Jaggery -1 tbsp
For grinding
Grated coconut -1/4 cup
Cumin/Jeera seeds – 1 tsp
Mustard seeds – 1 tsp
For the seasoning
Coconut oil – 2 tsp
Mustard seeds – 3/4 tsp
Red chillies – 2
Curry leaves – few
Preparation
Peel the skin and remove the core of the pineapple. Chop it into small pieces.
Grind coconut, jeera seeds and mustard seeds to a fine paste and keep it aside.
Directions
Cook pineapple with very less water adding salt, turmeric powder, jaggery and chilli powder.(pineapple tends to ooze out water)
Once pineapple becomes soft, add the ground coconut paste and cook till the raw smell of the coconut goes and all the water evaporates.
Add whisked curd, mix well and switch off the flame. Do not boil after adding curd.
Heat coconut oil, add mustard seeds, when it splutters, add red chilli, curry leaves and pour it over the pachadi.
Serve it as a side dish for rice. Give this delicious recipe a try and I am sure, you will not regret it.
If you like this recipe then please take a moment to like us on Facebook or follow me on Twitter or join me on Google plus to keep up to date with Padhuskitchen.