Sandwiches are quick and easy to prepare and can be quite filling.They are great to pack in your kids lunch boxes as well. I had some leftover tomato chutney in the fridge and I used it to prepare this sandwich. Today we well learn how to prepare tomato chutney cheese sandwich using our instant tomato chutney.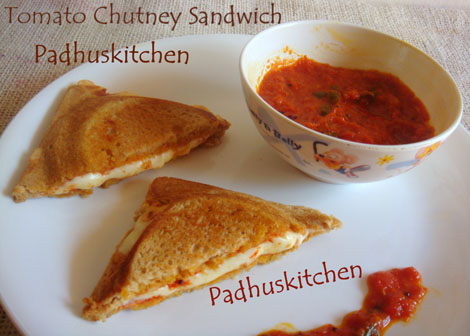 Tomato Chutney Cheese Sandwich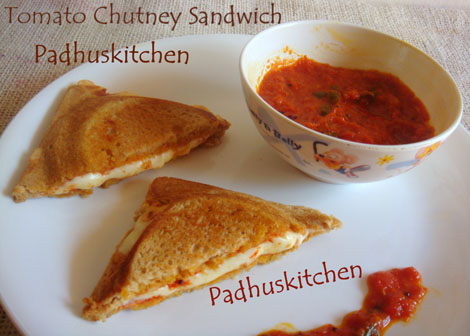 Prep Time : 5 mins
Cook Time
:
10 mins
Yields
:
1 sandwich
Recipe Category
:
Recipe Cuisine
:
Indian
Author
:
Padhu Sankar
Ingredients needed
Instant tomato chutney – 1 tsp
Cheese slice -1
Brown bread -2
Butter as required
Bread Toaster or Tawa
Preparation

Cut the corners or brown crust of the bread slices.

Grease the sandwich toaster with a little butter.
Method

Take 2 bread slices, spread chutney on one side of both the bread slices. Check the recipe for instant tomato chutney.

Place a cheese slice on top of 1 bread and close it with another bread with the chutney side facing down.

Place the sandwich in the toaster and toast it on low flame until golden brown.

Repeat the same process for the rest of the bread.
Note – You can use electric toaster also. If you do not have toaster, you can use the tawa to toast the bread.
Have Fun with your kids!
Encourage your kids to decorate the sandwich. Give them raw vegetables of different colors and shapes – beetroot, cucumber slices, tomato slices, shredded carrots or grated cheese for hair, olives or cucumber slices for eyes etc or any other vegetables you want them to eat. Let them decorate and have fun! Trust me, they will love to eat anything if they made it. It is also a wonderful way to spend quality time with kids. (No more worry's for mothers that their kids are not having enough veggies.)
There are many uses to leftover Instant Tomato chutney
1. Use it as a spread for bread or prepare this sandwich toast.
2. Add it to sambar while adding dal to make it more tasty.
3. Make Instant Tomato Rice – Heat 3 tsp of oil, saute onions till it turns transparent, add this chutney, needed rice and salt and mix well.Voila!! Instant tomato rice is ready.
5.Mix it with paratha dough and prepare tomato chutney parathas.
6.This tip comes from a reader. I liked it very much so I am sharing it with you all.
Tomato rice with vegetables–
Heat 2-3 tsp of oil, saute onions till it turns transparent, add this instant chutney, steamed vegetables like carrot, beans, cauliflower, peas, needed rice, salt and mix well. Tomato rice fortified with vegetables is ready.
If you like this post then please take a moment to like us on
Facebook
or follow me on
Twitter
or join me on
Google plus
to keep up to date with Padhuskitchen