Since it is vacation time for the kids, I am really very busy, so here I am with an instant version of tomato chutney which you will all surely love.This chutney goes well with most
Indian breakfast dishes
. It can be used as a spread for bread, dip for samosas, side dish for parathas etc. Today let us learn how to make Quick Tomato Chutney (without onion and garlic) following this easy recipe.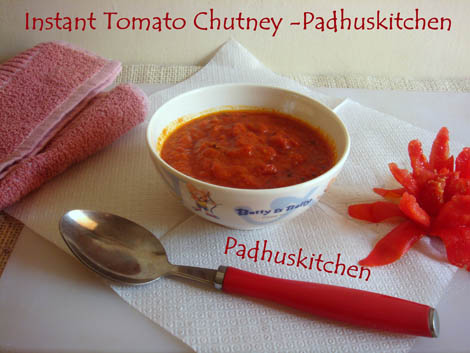 Quick Tomato Chutney
How to prepare Tomato Chutney
Prep time – Under 5 mins
Cook time-Under 10 mins
Ingredients needed
Tomatoes – 4 medium size ( ripe ones)
Sambar powder – 2 tsp
Turmeric powder – a pinch
For the seasoning
Sesame seed oil – 2 tbsp
Mustard seeds – 1 tsp
Hing / Asafoetida – a pinch
Curry leaves – few
Method
Blend tomatoes in a blender.
Heat oil in a pan, add mustard seeds when it splutters, add hing, curry leaves, tomato puree, turmeric powder, sambar powder and needed salt.
Cook till oil separates. You can store this chutney in the refrigerator for 3-4 days.
Notes
If the tomatoes are too sweet, you can grind a small bit of tamarind along with it.
Different versions of Tomato Chutney recipes
Tomato Chutney (with onion and red chillies)
Meet you all with more interesting recipes.