Masal vadai is a very popular snack of South India.It is made with bengal gram dal and some spices. It can be had as a snack with a cup of hot tea or even as a side dish for
sambar sadam
. It is a common street food in Tamil Nadu and is available in most of the road side shops and hotels. Well! Are you carving for a restaurant style masala vadai now? Here is a very simple recipe which can be prepared even by a novice.
How to make Masala Vada/Vadai
Prep time – under 15 mins
Cook time – under 15 mins
Yields – 10-12 vadas
Ingredients needed
Channa dal / Bengal gram /Kadalai paruppu -1/2 cup + 1 tbsp
Red Chillies – 2
Saunf / fennel seeds /Sombu – 1 tsp
Onion- 1 very finely chopped
Green chillies -1-2 finely chopped
Curry leaves – few
Coriander leaves – few finely chopped
Salt to taste
Oil for deep frying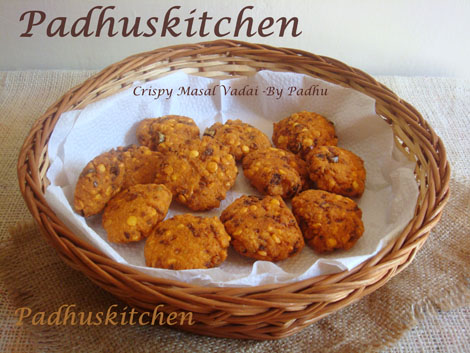 Preparation
Soak Channa dal (kadalai paruppu) in water for 4 hours.
Drain the water completely in a colander. Keep 1 tbsp of channa dal aside.
Grind 2 red chillies and fennel seeds first and then add the rest of the channa dal and grind without adding water coarsely.
Then add finely chopped onions, soaked and drained channa dal (1 tbsp which we kept aside), finely chopped green chillies, finely chopped coriander leaves and few curry leaves to the above mix.
Method
Heat oil (to check if the oil is hot enough to drop the vadas, add a small pinch of batter, if it raises to the surface immediately , then that is the right stage to fry the vadas). Take a small lemon sized ball of the mix, flatten it with your hands and gently slip it into the oil.
Keep in medium heat and fry the vadas both sides till golden brown and crisp. Repeat the same procedure for the rest of the mix. (The number of vada you add to the oil depends on the quantity of oil you heat)
Variations and tips
The secret of a delicious masala vada is the flavor of fennel seeds and finely chopped onions.But if you do not like fennel seeds, you can add finely chopped ginger instead of fennel seeds.
Masal vadai will taste more delicious if you use baby onions, instead of big onion.
If case, if there is moisture and you are unable to shape vadas out of the mixture, add a little besan/ bengal gram flour to the vada mix, so that it will absorb the excess moisture.
Beginners can grease a plastic sheet or ziplog bag or plantain leaf, flatten the vadas on it, flip the sheet and transfer the flattened vadas to the hand and then slip them gently into the oil.(in case, if you are not comfortable with the above method).
Check out my Ulundu vadai or Medu Vada Recipe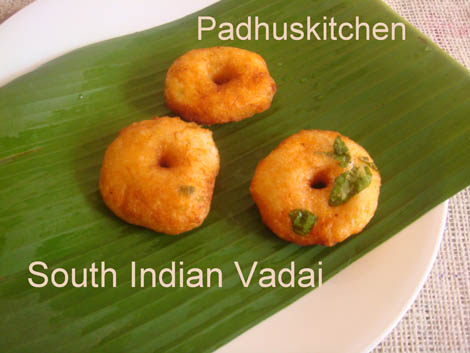 Enjoy making these delicious vadas.Come back for more interesting recipes and tips.