Today we will learn how to make a quick, easy, moist and soft Eggless Chocolate Cake.This cake does not have eggs in it, so can be enjoyed even by those who do not include eggs. It is so simple and can be prepared in a jiffy. Just mix all the dry ingredients with the wet ingredients and bake. Sounds very easy, isn't it? This rich and moist chocolate cake is a treat for all chocolate cake lovers.
Egg less Chocolate Cake Recipe
Prep time – under 10 mins
Cook time – 30-40 mins
Ingredients needed
All purpose flour (maida) – 1 1/2 cup (195 gms)
Sugar – 1 cup (200 gms)
Cocoa powder – 1/4 cup (25 gms)
Baking soda -3/4 tsp
Baking powder -1 tsp
Salt -1/4 tsp
Unsalted Butter melted – 1/3 cup (75 gms)
Warm water – 1 cup
Lemon juice or vinegar – 1 tbsp
Vanilla essence – 1 tsp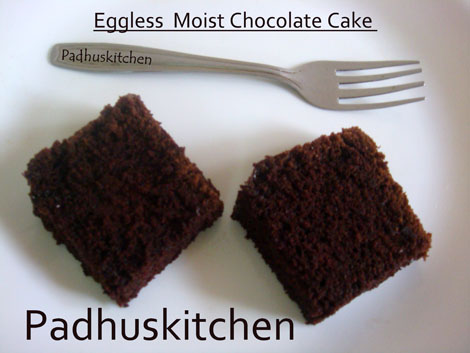 Preparation
Preheat the oven.(177 degrees C)
Grease and dust the 8 inch square cake pan or line it with parchment paper.
Method
Sieve flour (maida), baking powder, baking soda, salt and cocoa powder twice. (dry ingredients). Keep it aside.
Add melted butter, warm water, lemon juice, sugar and vanilla essence in a bowl. Mix till sugar dissolves.(I powdered sugar, so I just mixed with a fork)
Add the wet  ingredients (butter + warm water + lemon juice, + sugar + vanilla essence) with the dry ingredients (ie flour + baking pwd + cocoa pwd + salt + baking soda) and mix both until well combined.
Pour the batter into a greased baking tray and bake for 30 minutes or until a toothpick inserted in the center of the cake comes out clean.(bake at 180 degrees C)
Serve it on its own or dust powdered sugar or enjoy it with a scoop of ice cream.
Variations -You can substitute melted butter with any flavorless oil.
More Chocolate Cake Recipes
Easy Chocolate Cake (with eggs)
Eggless Marble Cake (Vanilla +Chocolate)
You can also bake this Eggless Chocolate Cake in pressure cooker just as I have baked Vanilla Cake.
Meet you with more interesting recipes and tips.