Wishing you all a very Happy and Prosperous New Year. Let me start this year with a delicious Brownie recipe. If you love chocolate, then you will definitely love brownies .The brownie is a type of dense, rich chocolate cake, which is, in texture, like a cross between a cake and a cookie.It is neither spongy like a cake nor crispy like a cookie.Brownies can be served warm topped with a scoop of vanilla ice cream or whipped cream. This is the first time I am baking a brownie and it turned out so perfect and delicious.My family loved it very much .With walnuts and chocolates, it was simply divine.Follow this recipe exactly and you will never go wrong.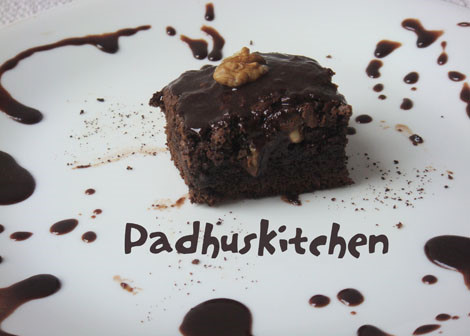 Chocolate Brownie Recipe
Makes about 12 large brownies
Recipe courtesy
(Chellam Gopalakrishnan)
Ingredients needed
Granulated Sugar – 240 grams
All purpose flour(Maida) – 80 grams
Butter or Margarine – 140 grams
Eggs – 3
Chocolate bars – 80 grams
Cocoa Powder – 30 grams
Baking Powder – 1 1/2 tsp
Walnuts – 60 grams
Vanilla essence – 2 tsp or
(Vanilla essence 1 tsp + chocolate essence 1 tsp)
Preparation
Grease the tray with butter, dust flour and keep it aside.
Sift together flour, baking powder and cocoa powder.Keep it aside.
Preheat the oven for 15-20 minutes.(180C)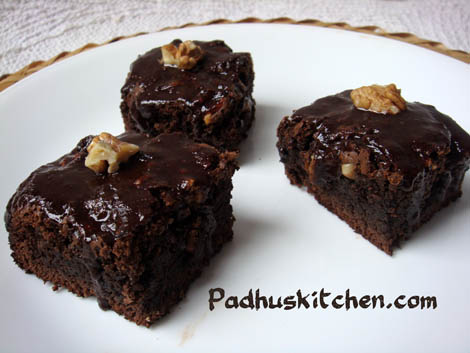 Method
Step 1
Bring water to boil in a pan.Remove from heat.Break eggs in a bowl and keep it in the hot water and beat well.Add sugar little by little while beating the eggs and beat well until it becomes creamy and stiff .
Step 2
Cut chocolate bar into small bits, add butter and double boil *. Beat a little .
Step 3
Now mix chocolate + butter mix with egg + sugar mix . Add essence. Beat well till it becomes creamy and bubbles start appearing.
Step 4
Now fold in maida /flour gently with a wooden spatula.The batter should be of dropping consistency. Pour the mixture into the greased tray.Add walnut pieces on the top and bake for 20 minutes or till done.
Insert a toothpick and if it comes out clean, then the cake is done.
Simple and easy chocolate brownies are ready.

Top it with chocolate sauce if you like.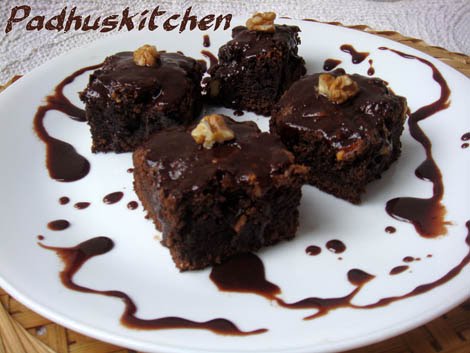 Double boil chocolate bars or chips, if it is thick, you can add a little milk or butter and apply it on the cake after it is cooled.(Chocolate sauce should be applied only after the cake has cooled.)

*What is double boiling?
It is to place the pot of chocolate bar or chips over another pot of boiling or hot water where the heat is lower.The chocolate will then melt evenly without burning.
This recipe is on its way to
Suma's Birthday giveaway
Its time to jingle again at Asan Khana
Meet you all with another interesting recipe, till then it is bye from Padhu of Padhuksitchen