Marble cake was my favorite when I was young as my mother used to make marble cupcakes often and we used to love it very much. I wanted to post my mom's recipe, but since she was away, I could not get her recipe. A Marble cake has both vanilla and chocolate batters, swirled to create a marble effect. It not only tastes great but also looks gorgeous. Today let us learn how to make eggless marble cake using condensed milk following this easy marble cake recipe-
How to prepare Eggless Marble cake
Recipe adapted from here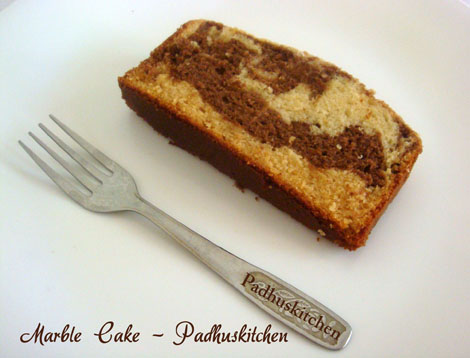 Ingredients needed
Condensed milk (milkmaid) -400 gms
All purpose flour -2 cups
Unsalted butter – 125 gms
Sugar – 2 tbsp
Baking powder – 1 1/2 tsp
Baking soda – 1 1/2 tsp
Vanilla essence – 2 tsp
Milk – 250 ml (1 cup)
Cocoa powder – 1 tbsp + 1/4 tsp
Preparation
Sieve maida, baking powder and baking soda together.Keep it aside.
Grease baking tray and dust flour.
Preheat the oven at 180 degree C for 10 minutes.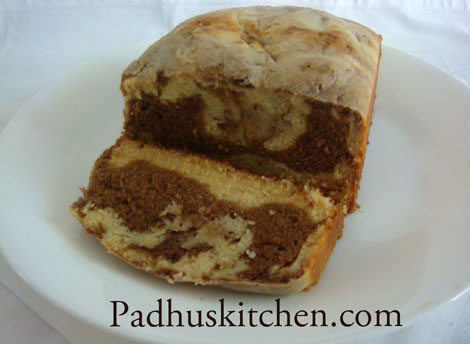 Method
In a bowl, mix condensed milk, butter, sugar, vanilla essence and beat well .
Add milk and beat for a few more minutes.
Fold in flour gradually and mix well until it gets well incorporated.
You can even beat it for 2-3 minutes using an electric beater in slow speed
Now the basic batter is ready.
Now take 1/3 of the batter in another bowl and add cocoa powder to it and mix well.
Now we have the vanilla (white) batter and the cocoa (brown) batter.
How to create marble effect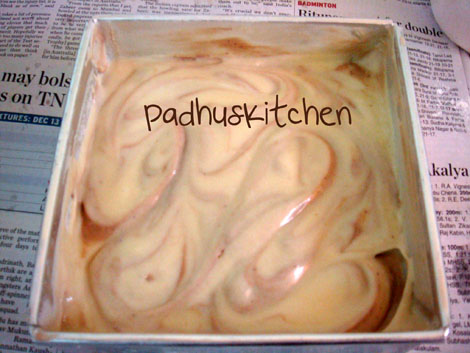 First fill the tray with a layer of vanilla (white) batter.
Then top it with a layer of chocolate batter followed by vanilla batter.
Fill the tray alternatively ending it in vanilla batter.
Then take a knife and insert it deep in the tin and create a swirl- (ie) make or drag an 8 with the knife on all the 4 corners and in the middle.You will get an effect as you see in the above picture.
Bake at 180 degree C for 25-30 minutes or until a toothpick inserted into the center of the cake comes out clean.
Enjoy this Christmas baking this easy and very simple marble cake.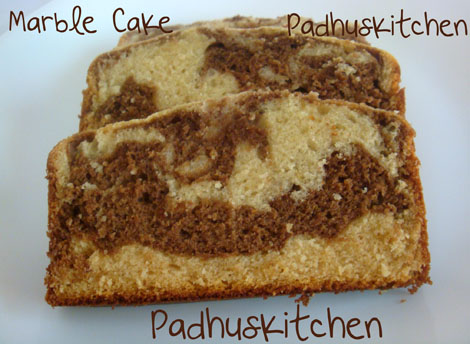 Are you wondering what to do with the condensed milk after trying No bake no cook chocolate fudge , you can use it to prepare this eggless marble cake.
More Cake recipes found in the link below
Meet you all again with another interesting recipe, till then it is bye from Padhu of padhuskitchen.com