Pirandai (
Cissus quadrangularis
) is known as Veldt Grape, Devil's Backbone and Adamant Creeper in English. It is known as Hadjod in Hindi. It is a creeper and grows wild on fences. It can be easily grown at home. Pirandai has many medicinal benefits. It is used for medicinal purposes in both Siddha and Ayurveda systems of medicine. Today we will learn how to make pirandai thogayal following this easy recipe.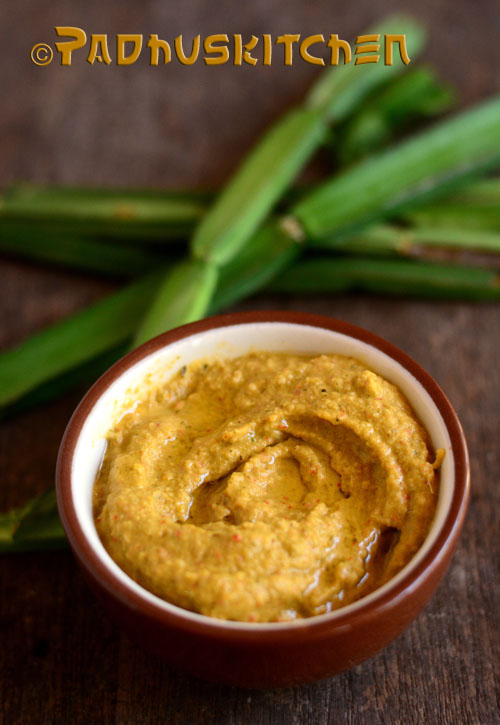 Pirandai Thuvaiyal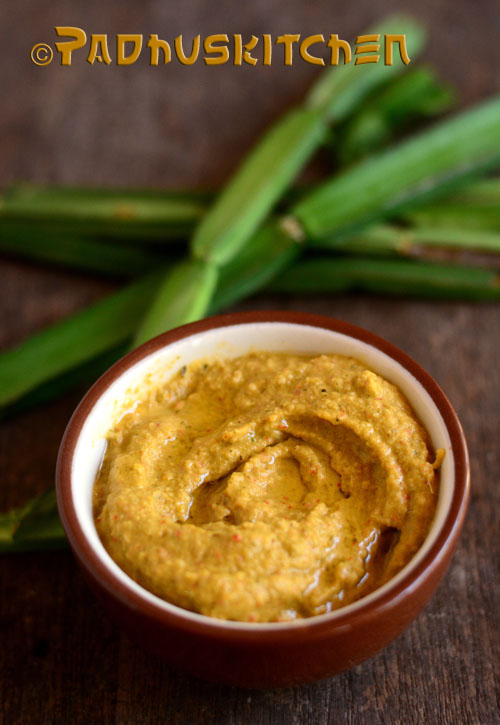 Prep Time : 10 mins
 Cook Time
: 15 mins
Serves
: 4
Recipe Category
: Side Dish-Chutney
Recipe Cuisine
: Indian
 Author
:Padhu Sankar
Ingredients needed
   Pirandai – 3/4 cup chopped
   Sesame seed oil – 2 tbsp
   Urad dal – 3 tbsp
   Red Chillies – 2
   Ginger – 1/2 inch piece
   Tamarind – a small piece
   Curry leaves – a sprig
   Grated coconut – 3 tbsp
   Salt to taste
Preparation 
Choose tender pirandai for cooking as the thick matured ones will cause itching in the throat. String the pirandai and scrap or peel the sharp angular edges (all sides) and discard the nodes and leaves. It is advisable to grease your hands with sesame seed oil before handling pirandai to prevent itching. Wash and cut it into small pieces and set aside.
Method 
Heat a tbsp of oil in a kadai, add urad dal, red chillies, tamarind, curry leaves and ginger. Saute until dal turns golden brown. Remove from kadai and keep it aside. If using tamarind paste, you can add it while grinding.
In the same kadai, add another tbsp of oil and saute the pirandai on medium heat until it turns pale green. Sauteing the pirandai well in oil is very important otherwise you will have itching in the throat after eating or even while eating.
Once the pirandai is sauteed well, add grated coconut and saute for another 2-3 seconds. Add salt needed and switch off the heat. Leave it to cool.
Once it cools, grind the pirandai with the dal to a slightly coarse paste.(if using tamarind paste, you can add at this stage and then grind). Pirandai thogayal is ready.
Mix pirandai thuvaiyal/chutney with hot rice, top it with a tsp of sesame seed oil and enjoy it. You can have a vegetable stir fry with it to make a complete meal.
It also goes well with idli and dosa also.
Pirandai Health/Medicianal benefits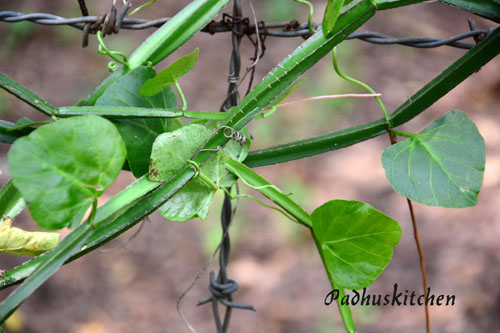 Pirandai helps in easing joint pains and is good for general bone health.
In Ayurveda medicine, pirandai is used to heal broken bones and injured ligaments and tendons.
Pirandai poultice is said to give relief from sprains and swollen joints.
In Siddha medicine, it is considered a tonic and analgesic, and is believed to help heal broken bones.
Pirandai is used to treat digestion related problems like indigestion, lack of appetite and gastritis.
It is used to treat stomach disorders.
It helps to alleviate menstrual cramps and is used to treat irregular periods.
It is used in treating piles.
It is rich in Vitamin C, which is useful in reducing inflammation effectively.
It is a natural blood purifier.
Note – Pirandai should be eaten in moderation.
Tips for growing pirandai at home – It is easy to grow at home. Just plant a small cutting of perandai, it will multiply soon. It needs very less water and less maintenance.
Watch the video recipe –https://youtu.be/A8zREfC9xZQ