In India, baking is not that common. Many households do not have an oven. When we were young, my mother used to bake cakes in pressure cooker, later on, she switched to stove top oven. When I searched for other methods of making cakes other than pressure cooker, I found that the Chinese usually steam their cakes. I found that very interesting and searched for a steamed cake recipe. I wanted to try it immediately as it seemed very easy, quick and less messy. So I tried a banana steamed cake and I was very happy with the outcome as the cake was very moist and delicious. This post is especially for persons who do not have ovens and want alternative methods of making cakes. Today let us learn the Chinese way of making this easy steamed cake-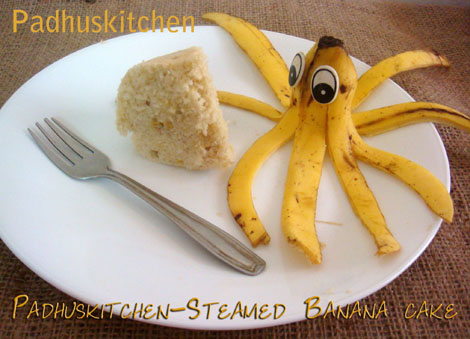 How to make Steamed cake
Recipe source – Chow Times

Ingredients needed
All purpose flour (maida) -100 g
Icing sugar -1/4 cup or as required
Ripe Banana (mashed) – 1 or 2 small bananas
Milk – 1/4 cup
Water – 2 tsp
Oil – 1 tsp (any flavorless oil. I used saffola)
Baking powder – 2 tsp
Raisins or chocolate chips – fistful (Optional)
Preparation
Sieve flour and baking powder together and keep it aside.
Keep the steamer ready.
Grease the cake pan.
Method
Take a bowl and mix all the ingredients except flour and raisins until well combined.
Now add the flour and mix gently. Add raisins or chocolate chips.
Now pour the batter in a greased pan or bowl and steam for 15- 20 minutes or until a wooden pick inserted in the center of the cake comes out clean.
If you do not have a streamer, bring water to rolling boil in a pan, place a stand and then place the cake bowl, cover it with a lid. Do not open the lid while steaming.
I was so excited to see my cake raising inside, as this is the first time I am steaming a cake.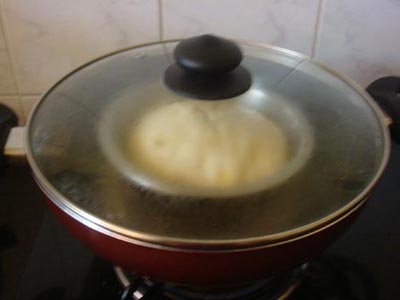 Remove from steamer, allow it to cool for a few minutes. Loosen the sides and then invert it on a plate. Serve warm.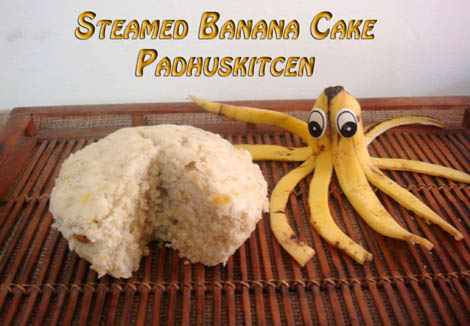 More Banana recipes
Banana custard with chocolate sauce
Hope you all found this post useful. Soon, I will be posting how to bake cakes in a pressure cooker. Stay tuned!
Do try steaming method for other cakes also and let me know the outcome through comments.

Meet you all again with another interesting recipe, till then bye from Padhu of Padhuskitchen.com