This is a very very simple yet exotic dessert which can be whipped up in a jiffy.Banana Custard with hot chocolate sauce is one of my favorite dessert. Try this simple recipe and it will leave you asking for more.Now to Banana Custard Recipe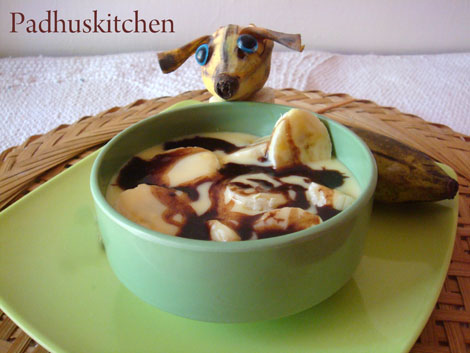 Banana Custard-How to prepare Banana Custard
Serves-2
Ingredients needed
Ripe Green Banana -2
Milk – 1 1/4 cup
Vanilla Custard Powder -1 tbsp heaped
Sugar -2 tbsp
Chocolate -2 small bars
Preparation
Peel and slice banana into round shapes.
Mix custard powder in a little warm milk and keep it aside.
Method
Bring milk to boil. Add sugar and mix well.
Simmer and add the custard powder mixed with warm milk stirring continuously.
Keep stirring until the mixture becomes slightly thick. It will thicken further when it cools down. Cool and refrigerate.
How to prepare chocolate sauce
Melt chocolate by double boiling. Add a little milk (1-2 tbsp) to it and boil for some more time. Keep it aside.
(Double boiling is melting chocolate using heat from boiling water and not on direct heat)
How to serve Banana custard
Put the sliced banana pieces in a bowl. Pour cold custard over it and top it with hot or cold chocolate sauce and enjoy.
If preferred you can garnish it with nuts.
You might like my Fruit Custard recipe also.
Meet you all again with another interesting recipe, till then it is bye from Padhu of Padhuskitchen.com