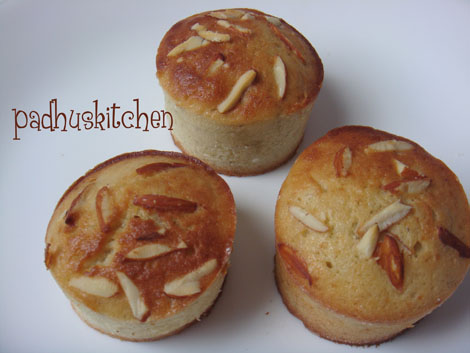 Banana Muffins-Banana muffins recipe-How to make banana muffins
Banana is one of my favourite fruits.Though I love eating bananas as such,this time I wanted to try something different with bananas. So I decided to make banana muffins as I remembered watching this on a TV show and had noted down the recipe.I had all the ingredients needed for making banana muffins at home.This was the first muffin I have ever baked and it turned out so well. It was very tasty and delicious.I followed the exact recipe without making any changes except decorating it with slivered almonds.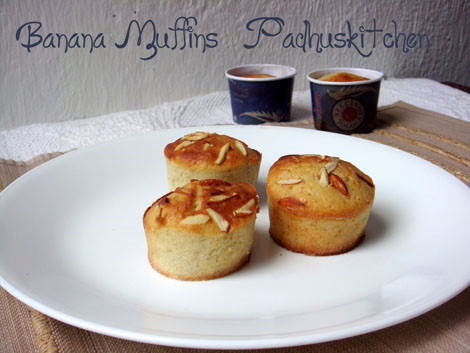 Do try this simple and delicious banana muffins. I did not have a muffin tray but that did not deter me from trying this as I used paper cups for preparing this delicious muffins and that was also successful. I was so delighted as my very first muffins came out so well. You will get 12 muffins for this recipe.
(Recipe courtesy-Rani Chellam)
Ingredients needed
Ripe Green Banana -200 grams (peel and then measure it)
Eggs -4
All purpose flour/Maida -200 grams
Sugar – 200 grams (granulated)
Baking powder -1 tsp
Baking soda – a pinch
Oil – 150 grams (any flavorless oil) I used safflower
Banana essence -2 tsp
Preparation
Sieve maida with baking powder and baking soda.
Grease the muffin tray or cups with oil and dust with flour.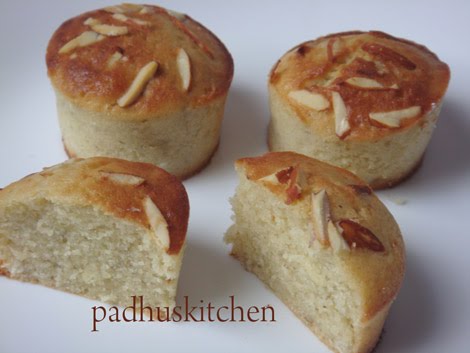 Method
Mash banana well .
Add sugar to it and beat till sugar dissolves.
Add eggs one by one and beat well. ( I used electric hand blender)
Add banana essence and mix it .
Then add flour little by little and fold it gently.(Do not beat after adding flour)
Then add oil and mix it well.
Preheat the oven for 15 minutes.
Now spoon the batter and fill each muffin cups with the batter till 3/4
Top each muffin with slivered almonds.(optional)
Bake for 20 minutes or until the tops are browned.
Insert a toothpick and if it comes out clean, then the muffins are done.
Cool, remove from the cups and serve.
Decorate it with any kind of frosting or toppings if you want but it tasted awesome just like that.
Eggless Banana Muffins
For Eggless banana muffins, replace eggs with 1 cup of milk.
This recipe goes to Veggie/Fruit a month event – Bananas , hosted at US Masala and started by Priya
Related recipes you may like
Meet you all again with another interesting recipe, till then it is bye from Padhu of Padhuskitchen.