Love is the most wonderful of all feelings in this world. St Valentine's Day is nearing, a special day to let your dear ones know that you love them. There are so many ways to express our love and food is one of them. A Simple Heart Shaped Waffles from padhuskitchen for Valentine's Day.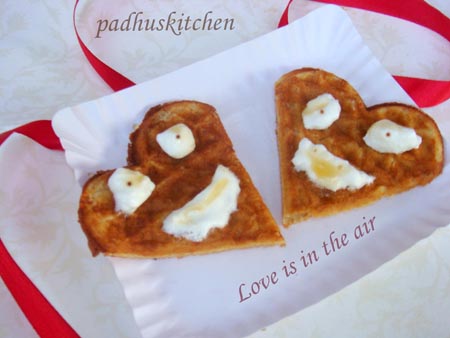 A Waffle is a batter or dough based cake cooked in a waffle iron patterned to give a distinctive and characteristic shape. There are many variations based on the type and shape of the iron and the recipe used. (Definition Source- wiki)
Waffles are very easy to prepare and does not involve much work. You do not have to sieve the flour nor beat the butter and eggs for a long time as you do for cakes.
Waffles can be eaten plain, topped with ice-cream, honey, berries, jam etc depending on individual's choice. Now to the recipe
Ingredients needed
Butter – 125 grams
Sugar – 150 grams
Eggs – 2
Wheat flour – 200 grams
Baking powder – 1 tsp
Milk – 1 ½ cups
Vanilla essence – 1 tsp
Fresh Lemon juice – ½ tsp (optional)
A pinch of salt
Gadget used
Waffle maker/waffles iron.
Preparations
Powder the sugar
Beat the eggs
Add baking powder to the wheat flour.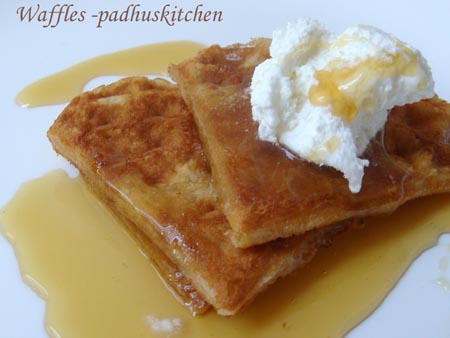 Waffles topped with vanilla ice cream and honey
Method
Beat the butter. Add powdered sugar and mix till the sugar dissolves.
Add egg mixture and mix well.
Then add wheat flour and milk little by little and mix well.
The batter should neither be thick nor thin.
Mix a tsp of vanilla essence, a pinch of salt and ½ tsp lemon juice to the batter.
Preheat the waffle iron. Take a little batter and spread it on the hot waffle iron and close it.
Within 1 minute the waffles will be done. Remove it with a wooden spatula.
Repeat the process for the rest of the dough.
You will get 9 waffles using this measurement. (1 waffle = 5 hearts).
Priya of Priya's Easy N Tasty Recipes is conducting a wonderful event for St Valentine's Day. Waffles are on its way to Hearts for St Valentine's Day