Moong Dal /Green Gram Sprouts with Carrots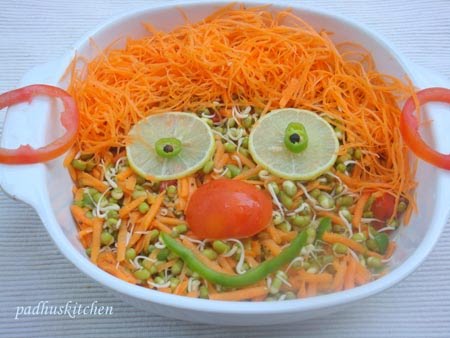 Salads are very good for health and has all the essential nutrients. There are a wide variety of salads. Salads can be prepared with vegetables, fruits, legumes, greens etc. You will all be knowing that you have to eat 5 different colors of fruits and veggies daily. The more colors we include in our diet, the more vitamins, minerals, nutrients, we get to stay healthy and energetic. By including salads in our diet daily, it is easy to include a variety of colors in our diet.
Stick to a sprout rich diet, within a few weeks you will feel more Healthier, more Energetic and of course you will feel great to have a Glowing skin. This is from my experience.
Now to the recipe-
This is a typical Indian Salad prepared with sprouted moong dal /green gram dal.
Ingredients needed
Sprouted moong gram -1 cup
Carrots -2 grated
Capsicums- 1 finely chopped
Tomato – 1 finely chopped
Ginger – finely chopped – 1 tsp
Chillies -1 small finely chopped
Roasted cumin seeds/jeera powder -1/4 tsp
Pepper Powder -1/4 tsp or less
Method
Mix everything together in a bowl. Add lemon juice and salt to taste.
Heat a tsp of oil, add 1/2 tsp of mustard,when mustard splutters, pour it over the salad and mix it. (optional)
Garnish with coriander leaves.
Another Simple Plain Moong Salad
Sprouted Moong -1 cup
Ginger – 1 tbsp finely chopped
Chillie -1 finely chopped
For the seasoning
Mustard seeds – 1/2 tsp
Jeera/cumin seeds – 1/2 tsp
Oil – 1 tsp
Method
Heat a tsp of oil and add mustard and cumin seed .When they sizzle, add ginger and finely chopped green chillies, saute for a seconds and pour it over the sprouted green gram.
Add lemon juice and salt to taste and mix it well.
Garnish with coriander leaves. Enjoy your way to better health.
Note – For those who want to know about sprouting, do check my earlier post on
How to sprout?
These Indian Salads are on its way to the following Events
Show me your Salad event conducted by Divya
Salad Carnival conducted by Bengali cuisine
Meet you all again with a wonderful post, till then it is adieu from Padhu