Sprouts are a storehouse of vitamins, minerals and amino acids. They are complete and rejuvenating food and have abundant goodness in them. It has lot of fiber and water, making it an ideal food for those who desire to lose weight. It prevents constipation, improves immunity and delays aging. Combined with fresh vegetables and fruits, it nutritional value further increases.
Seeds commonly sprouted
Green gram/moong dal
Sesame seeds
Fenugreek seeds
Bean seeds
Sunflower seeds
Peas
Groundnut
Channa
For more details about seeds that can be sprouted refer http://en.wikipedia.org/wiki/Sprouting
Let me start with- How to Sprout?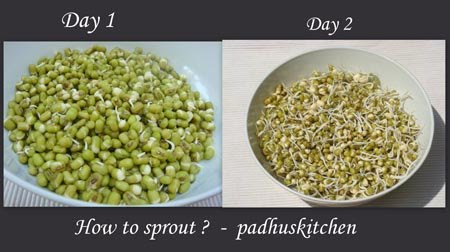 1.Clean the seeds to be sprouted well.
2.Soak it in clean water for 15 hours.
3.Wash, drain water and transfer it to a dry vessel. Close it with a lid and keep a heavy object on the top. Do not disturb.
5. The next day, wash it well, drain the water and keep it again for 24 hours closed with a lid. Keep a heavy object on the top and do not disturb it. (See picture above Day 1)
6. After another 24 hours, you can see the seeds would have sprouted well (see picture Day 2). Spread it on a plate, dry it for 5 minutes and your sprouts are ready to be used in salads.
You can use it immediately or store in an airtight container in the refrigerator.
Note -you can grow sprouts for 3-4 days but make it a point to rinse it nicely everyday to prevent foul smell and contamination.
Water should be drained well otherwise the sprouts will rot.
Sprouted Green Gram Vegetable Salad
Prep Time : 10 mins(sprouting time not included)
Serves
:
3-4
Recipe Category
:
Salads
Recipe Cuisine
:
Indian
Author
:
Padhu Sankar
Ingredients needed
Sprouted Green Gram -1 cup
Fresh carrots-2 (grated)
Grated Cabbage- handful
Capsicum -1 medium sized
Cucumber -1
Salt to taste
Fresh Lemon juice -2 tbsp or as needed
For the seasoning
Oil-1/2 tsp
Green chillies -2
Finely chopped ginger -1 tsp
For garnishing
Grated fresh coconut -1 tbsp (optional)
Finely chopped coriander leaves- 2 tbsp
Method
Finely chop capsicum and green chillies.
Cut cucumber into small cubes, add little salt and keep it aside for 10 minutes. Strain the water from the cucumber.
Mix grated carrots, grated cabbage, finely chopped capsicum, cucumber, sprouts, coconut (if you are adding) and salt together in a bowl.
Heat 1/2 tsp of oil, add green chillies,ginger and saute for a few seconds. Then add it to the above.
Squeeze juice of half a lemon and mix everything well. Healthy and delicious sprout salad is ready.
Garnish with coriander leaves and serve with rice or with bread or have it just as a snack.
You can experiment with different combination of sprouts, vegetables and fruits of your choice.
Note – I prefer to use sprout raw in salads. If you do not like it raw, steam it in idli cooker or steamer just for 5 minutes.
Check out another method of sprouting
Don't forget to hit the +1, Share button, Tweet button, Pin it button, if you like the post. You can follow us on Google Plus, Pinterest, Twitter, Facebook and Subscribe to RSS Feed to receive latest updates.