Paneer is an Indian cheese prepared from milk. A variety of dishes can be prepared from paneer. It is a good source of protein. Though it is readily available in stores, home made paneer is very soft and spongy and is very simple to prepare. Since I will be posting many paneer dishes, I thought first I will share the process of making paneer at home for those who are not familiar with it or who have not tried it at home.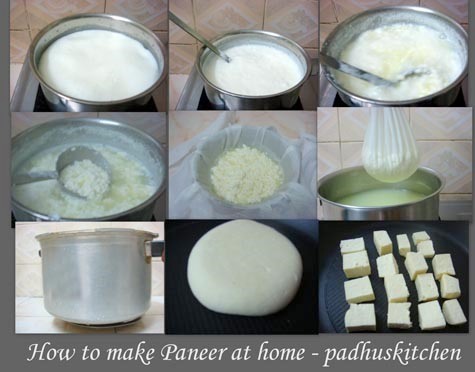 How to make Paneer at Home-Paneer Recipe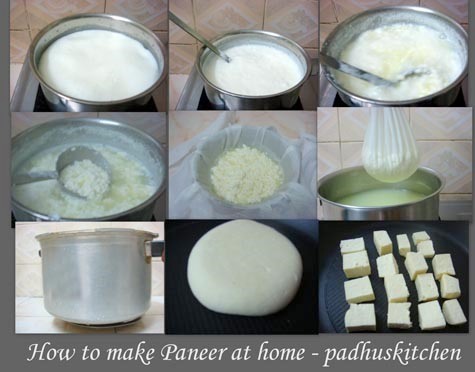 Prep Time : 5 mins
 Cook Time
: 10 mins
Yields
: 175 grams
Recipe Category
: Cooking Basics-Paneer
Recipe Cuisine
: Indian
 Author
:Padhu Sankar   
Ingredients needed
   Milk – 1 liter
   Fresh Lemon juice – 2 – 2 1/2 tbsp
Method
1. Bring milk to boil.
2. Once it boil, turn off the heat, wait for a minutes. Then add lemon juice to it while continuously stirring.
3. Milk will start curdling. (Pic 3)
4. Keep stirring until the curdling process is complete. (Pic 4)
5. Strain through a cheese cloth or thin cotton cloth. Rinse it with water or pour water to it to help wash away the lemon flavor. Wait for it to cool a little. (pic 5)
6. Gather the cloth with curd, squeeze out all water, tie a knot and hang it for 20-25 minutes to drain water, if any completely.
7. Keep a heavy object on top of it. I kept a pressure cooker filled with water. Leave it to set for 3 hours.
8. After 3 hours, take it out from the bundle, paneer will look as in pic 8.
9. Cut it into cubes and use it. You can store it in an airtight container in the refrigerator, if you are not going to use it immediately.
Note –
If paneer crumbles when you cut, then you have not drained/removed the whey properly.
I used milk with 4.5% fat. I got approximately 175 grams of paneer.
You may need a little more or a little less lemon juice than mentioned for the milk to curdle.
Shelf Life
It can be stored for 5 -6 days in the refrigerator.
Check out my collection of Paneer Recipes.
Meet you all again with more interesting recipes, till then it is bye from Padhu of Padhuskitchen.