Radish Greens
/ Mullangi keerai poriyal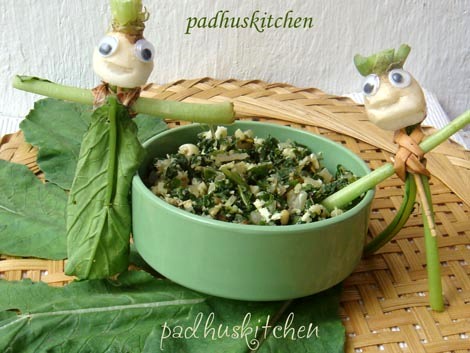 Mrs.Radish green is so happy as Mr.Radish green got her a beautiful evening gown
Did you know that
radish greens
are an excellent source of Vitamin C. In fact they have far more calcium, protein and vitamin C than the roots. It contains cancer protective properties and aids in digestion. It also helps to flush toxins from the body. So next time when you buy radish, do not throw away its leaves. You can even add some fresh leaves to your salads or soups and enjoy its nutritional benefits.Now let us learn how to prepare radish greens stir fry following this easy stir fry recipe.
Ingredients needed
Radish greens – 1 1/2 cups tightly packed
Coconut -1/4 cup grated
Cumin seeds/Jeera – 1/2 tsp
Garlic – 6 cloves finely chopped
Onion – 1 finely chopped
Oil – 3 tsp
Salt as required
For the seasoning
Mustard – 1 tsp
Urad dal – 1/2 tsp
Red Chillies – 2 broken into small pieces
Asafoetida/Hing – a pinch
Preparations
Wash and clean radish greens well and remove its thick stalk. Chop it finely.
Crush coconut along with cumin seeds and keep it aside.(or grind it in the mixie for a second without water)
Method
Heat 3 tsp of oil and add the ingredients for seasoning one after the other.
Add finely chopped onions and garlic and saute till onions turn transparent.
Add radish greens, needed salt and cook covered till it becomes tender. Sprinkle water and stir in between for even cooking.
Add the coconut + cumin seeds, mix well and remove from flame.
Serve it as an accompaniment to rice.
This recipe goes to Preeti's "Green Gourmet" Event A green food event.
More Green recipes/ Keerai recipes here
Meet you all again with more interesting recipes, until then it is bye from Padhu of padhuskitchen.