Vegetable Sandwich Recipe (Indian)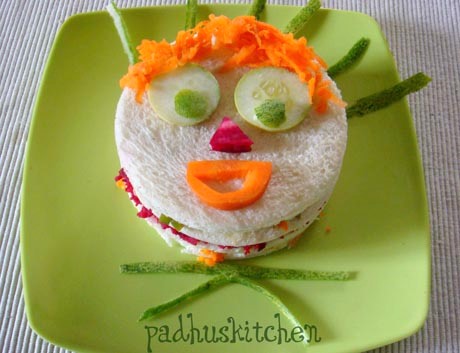 Hello Everybody, I am back from my vacation, fully charged and refreshed. Did not have the mood to spend much time in the kitchen, so just prepared this simple veggie sandwich. Sandwiches are very popular as they are very convenient to pack for school lunch or office or picnics etc. There are a wide variety of fillings ranging from pickles, veggies, paneer, potatoes etc. Sandwich can be toasted, grilled or plain. Now to the very simple vegetable multicolored sandwich.
Ingredients needed
Sandwich Bread – White/brown – 4 slices
Carrot – 2 tbsp grated
Beetroot – 2 tbsp grated
Capsicum – 2 tbsp finely chopped
Butter – as required
Cheese Slice – 1
Salt – as required
Pepper – as required
Preparations
Heat a little butter in a pan and saute the grated carrots for a few seconds. Add salt and pepper. Keep it aside.
In the same pan, heat some more butter and saute the grated beetroots and capsicums separately. Add needed pepper and salt to it. Keep aside.
Trim the brown edges of the bread and apply butter on one side of all the 4 bread slices.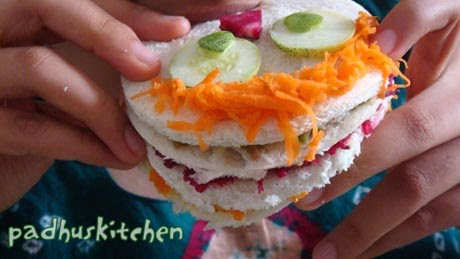 Method
Take 1 bread slice with buttered side facing up, place 2-3 tsp of grated carrots and close it with the 2nd slice with buttered side facing up.
On the top of the butter, place grated beetroot.
Top it with the 3rd slice of bread with butter side facing up.
On the top of it, place sauteed capsicum and a layer of cheese slice.
Then close it with the 4th slice with buttered side facing down.
Cut it diagonally and enjoy it with tomato ketchup.
(I have cut it into circles and decorated it just to make it appealing for kids. I am sure kids will not make any fuss to eat this vegetable sandwich.)
Once I settle down to my routine, I will soon catch up with all your yummy recipes which I had missed. Meet you all again with an interesting recipe, till then it is bye from Padhu of padhuskitchen.