Baby Corn Rice / Baby Corn recipe and a Break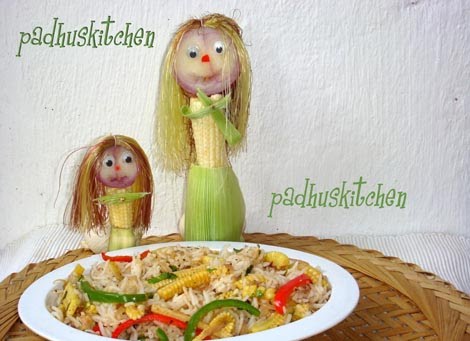 I am leaving on a holiday with my family, so I will not be posting for the next two weeks. Feel free to enjoy my older posts till I am back. Mother's day falls on May 9 th, 2010 . As you all know mother's love is unconditional and priceless. As a mother, I always prefer to cook dishes which my children love very much rather than what I like. Both my kids love baby corn and capsicum, so I combined both the veggies to make this very very simple and yummy rice dish. This can be done with left over rice or brown rice also. I have done it with Basmati rice as my kids make a big fuss to eat brown rice. I decided to present the dish with Mother's day as a theme. Hope you will all like it. Now to the recipe
Ingredients needed
Basmati Rice – 1 cup
Onions -1 cup chopped
Baby corn – 5-6
Capsicum/bell pepper- 3 medium sized (I used red, yellow and green)
Garlic -4 cloves
Pepper powder – 3/4 tsp
Chilles Powder – 1/4 tsp
Coriander powder – 3/4 tsp
Jeera/cumin powder – 1/2 tsp
Salt as required
Oil – 1 tbsp
Preparations
Cut baby corn and bell pepper lengthwise.
Soak basmati rice for 20 minutes. Drain the water and cook with 2 cups of water. I used the pressure cooker for cooking rice.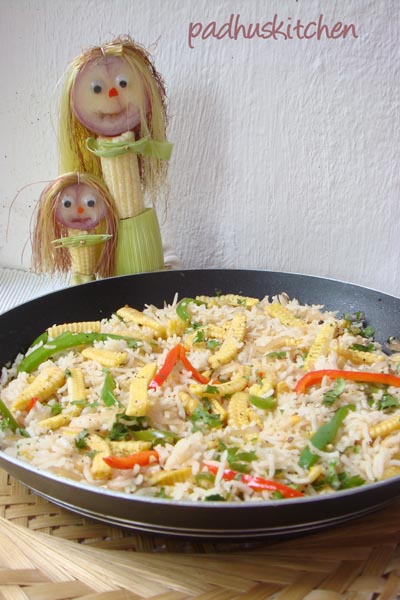 Method
Heat oil in a pan, add baby corns, bell pepper and fry for a few minutes till it is slightly cooked. Do not overcook.The veggies should be crunchy. Keep aside.
In the same pan, add garlic followed by onions and saute till onions becomes transparent.
Add baby corn and bell pepper. Now throw in all the spice powder and add salt needed.
Mix cooked rice and serve with papads or chips.
I am sending this recipe to panchpakwan's Mother's Day Event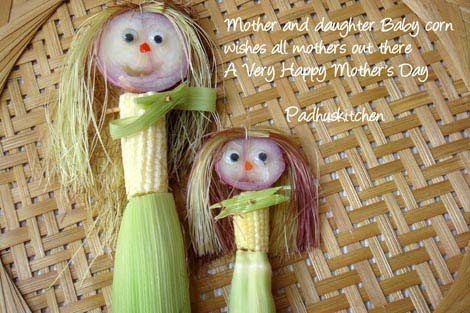 Since I will not be here on May 9th, I wish
all Mothers out there a Very Happy Mother's day. Enjoy with your kids.
Meet you all again after 2 weeks with another interesting recipe. Till then it is bye from Padhu of padhuskitchen