Vadu maanga or Mavadu are tender small raw mangoes which are commonly available during the summer in South India.Usually we make pickles out of these mangoes.The good thing is, we do not use oil for this pickle and salt is the only preservative for this mango pickle. My mother is an expert at making this pickle. She usually buys Maavadu in bulk and prepares this pickle every year to distribute it to friends and relatives. It is a fantastic accompaniment not only with curd rice but also with
sambar rice
.Every time I make this pickle, all the other pickles get sidelined in my home.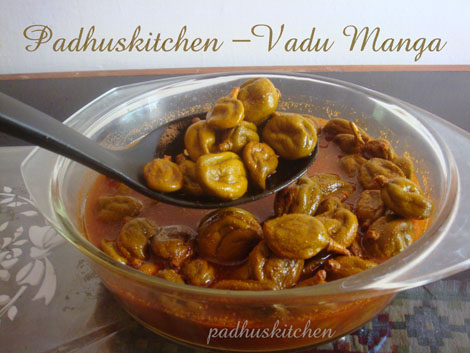 Vadu Mangai Pickle-Maavadu oorgai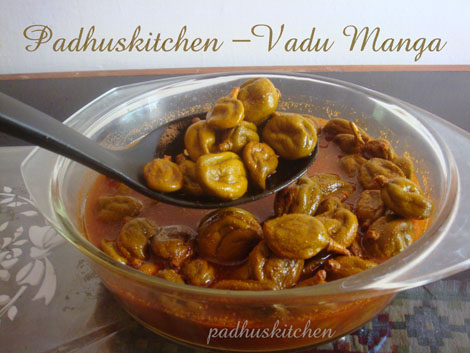 Prep Time : 40 mins
Recipe Category
:
Pickles-Mango
Recipe Cuisine
:
South Indian
Author
:
Padhu Sankar
Ingredients needed
Vadu (Baby mangoes) – 2 kg
Salt (crystal salt or rock salt) – 2 cups
Chilli powder – 1/2 cup
Mustard seeds – 2 tsp
Turmeric powder – 1 tsp
Preparation
Wash mangoes well 3-4 times.Trim the long stems. Spread it on a cloth and air dry it under the fan inside the house.The mangoes should be dry and free of moisture.
Powder the rock salt in a mixie and keep it ready.
In a bowl, mix salt, chilli powder and turmeric powder well.
Method
Take a big jar or plastic bucket, add 1 layer of mangoes, then add a layer of salt + chilli pwd + turmeric pwd mix.
Then again a layer of mangoes and top it with chilli pwd+ salt+turmeric mix. Keep on layering it until all the mangoes are over. Close it and keep it aside.
The next day shake the container well or mix it with a dry ladle so the the spices get mixed well with the mangoes. Mix well with a dry ladle twice a day (both morning and evening).
By the 3 th day, the mangoes would have oozed out lot of water.
Take 2 tsp of mustard seeds and grind it with a little oozed out water and add it back to the mango pickle.
Mix it well twice everyday (morning and evening) with a dry ladle.
It is ready for use after 10 days.Even after that you have to mix it well everyday. The longer the mangoes soak, the tastier it will be. Mine was perfect and tasted great.
Note– I use only rock salt for all my pickles as it is free of the additives. Powder the rock salt before using it.
Choose baby mangoes with stem as those without stems are mostly picked up from the ground and is not suitable for making this pickle.
Do not use spoiled or damaged mangoes as it will spoil the whole lot.
Traditionally, they make this pickle in large quantities and preserve it for a year, so castor oil is applied on the mangoes before pickling, to prevent it from getting spoiled. But since I have pickled only 2 kgs and do not like castor oil, I did not apply it. If you are making it in bulk, coat the mangoes with a few tsp of castor oil after drying it well. Then follow the procedure above.
Traditional measurement – For 8 measures mangoes – 1 measure crystal rock salt and 1/4 measure chilli powder.
Refer more Pickle Varieties from Padhuskitchen