This is a very healthy Indian style pudding made with brown rice and jaggery.We all know the health benefits of brown rice and jaggery. Brown Rice is rich in fiber and is a good source of manganese and selenium. Jaggery is rich in iron and is definitely a better choice than sugar.Today we will learn how to make jaggery brown rice payasam following this easy recipe.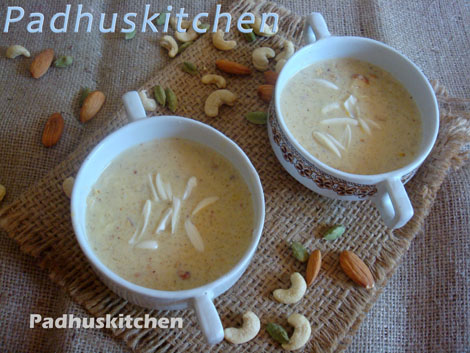 Brown Rice Pudding Recipe
Cook time – under 20 mins
Prep time – under 10 mins
Serves -1
Ingredients needed
Brown rice -2 1/2 tbsp
Jaggery – 4-5 tbsp
Milk – 2 cups
Cashew nuts, pistachio, almonds -1 tbsp each roasted
A pinch of ground cardamom powder
Preparation
Ground brown rice coarsely like rava and soak in 1/4 cup of water for 1 hour. Cook brown rice till soft.You can pressure cook also.
Dissolve jaggery in a little water and filter it to remove impurities.
Chop the nuts and keep it aside.
Method
Combine milk and rice in a pan and cook on low flame till milk reduces a little, stirring from time to time.
Add jaggery, cardamom powder and mix well. Switch off the flame and garnish with roasted chopped nuts.
It can be served either warm or cold.
Note – It will thicken as it cools, if needed you can add a little milk according to the consistency needed.
Brown Rice Recipes (Indian)
Meet you with more interesting recipes.