Sweet Appam is prepared during festivals like Krishna Jayanthi and Karthigai Deepam. I have used raw rice and wheat flour to prepare this appam. The appam was delicious and we all loved it very much. I learn't this recipe from my perimma (aunty).Today we will learn how to make sweet appam following this easy recipe.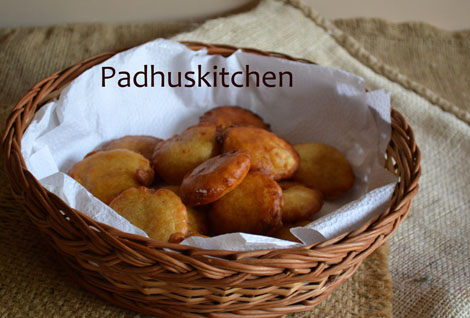 Sweet Appam using Wheat flour
Ingredients needed
Raw rice – 3/4 cup
Grated coconut – 1/2 cup
Cardamom powder -1/4 tsp
Grated jaggery – 1 cup
Wheat flour – 1/4 cup + 1 1/2 tbsp
Oil for deep frying
Preparation
Soak raw rice (pacharisi) for 1 -1 1/2 hours.(not more than that)
Method

Drain the water completely and grind the rice first in a mixie.Then add little water, grated coconut, cardamom powder and grind it to a smooth paste.You can rinse the mixie with 2 tbsp of water and add to the batter.
Add grated jaggery to it and mix well till it dissolves.
Then add wheat flour and mix well .The appam batter should be of dosa batter consistency, so adjust accordingly. (see picture above)
The batter need not ferment, you should make appams immediately after grinding it.

Heat oil in a small kadai, keep it in medium flame, take a small amount of batter in a table spoon or small ladle and drop it gently into the oil.
When it puffs, turn over and cook the other side also till golden brown. Drain the oil using a slotted ladle and take it out from the kadai. Deep fry one appam at a time.
Repeat the same process for the rest of the batter.
Sweet appam is ready to be served. It can had as a tea time snack.

Note – You can adjust the amount of jaggery according to your taste.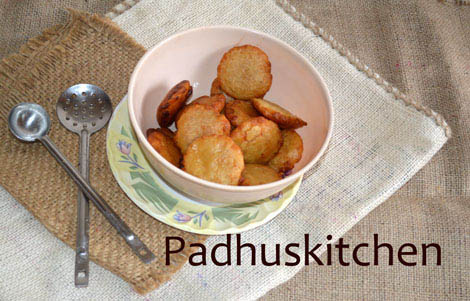 If you like this recipe then please take a moment to like us on Facebook or follow me on Twitter or join me on Google Plus to keep up to date with Padhuskitchen