Today, I am not going to share with you any recipes but going to show you an easy and effective way to clean burnt pots and pans. The other day I had leftover sambar from lunch. I reheated it so that I can use it as a side dish for dosa for dinner. I totally forgot about it and was engrossed with other works. When I was back, I smelled something burning. To my horror, I found that the burning smell was coming from my kitchen and I realized that I forgot to switch off the flame after reheating sambar. I found my pan very badly burnt. I did not fret as I knew the tips and tricks to clean burnt pots and pans. Today I am going to show you a quick solution to easily clean burnt pots/pans with just 2 ingredients, which will make your pot look as good as new. Let's see how-
Before and After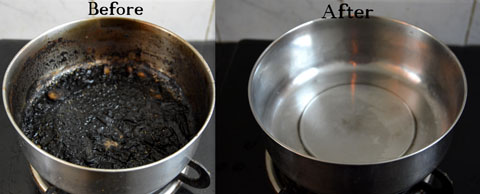 How to Clean tough burnt stains from stainless steel cookware, pots and pans
Things you need
White Vinegar (non fruit)
Baking soda or cooking soda
Dishwashing detergent
Scrubber
Steel wool (optional)
Method
Add equal parts of vinegar and water to the burnt pan. I added 1/2 cup of water and 1/2 cup of vinegar to the pan as my pan was big and was severely burnt.

Bring it to rolling boil. Then let it boil for 5-6 minutes on medium heat. You will find all the burnt food residue dislodging (see picture below).

I discarded the water but still my pan looked as seen in the picture below. (because it was very badly burnt – but definitely better than it was earlier).
Then I again added a cup of water and a tsp of cooking soda (or baking soda) and boiled the water for another 5-6 minutes.

The remaining remnants of burnt food also came off. Now wash and scrub the pan with dish-washing soap and a scrubber. Use a steel wool for badly burnt pans otherwise a scrubber will do. Your pot will shine as new. Amazing isn't it??

Note – You can use either vinegar or baking soda. As my pan was very badly burnt, I tried both methods using vinegar and baking soda.
You can also clean burnt milk vessels using the same method.
Don't forget to hit the +1, Share button, Tweet button, Pin it button, if you like the post. You can follow us on Google Plus, Pinterest, Twitter, Facebook and Subscribe to RSS Feed to receive latest updates.