I always wanted an apron with Padhuskitchen embroidered on it but could never find time for it. When perfico approached me asking me to review their personalized kitchen aprons, I decided to accept it, as the product was a good fit to Padhuskitchen also.
Perfico.com is an online shopping portal specially created for beautiful personalized gifts.
About their Personalized Kitchen Aprons
The apron is made from high quality material (polycotton), and beautifully embroidered.
It comes in a standard Adult size and child sizes.
There are variety of printed aprons in white with lot of unique and fun designs. Most of the printed apron comes only in white color. I personally felt they could have more color options.
The embroidered apron comes in 3 colors BLUE, BLACK or WHITE.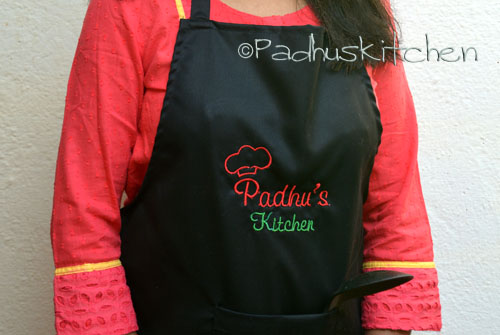 I choose a black apron from their wide variety of aprons and wanted Padhu's Kitchen embroidered on it. I had the choice of choosing the color of the threads. For threads, you have a choice of standard Pink, Dark Blue, Light Blue, Red, Orange, Green and Black threads.
Once you choose everything, they send you the preview of the apron for you to confirm it.
You can buy personalized Kitchen Aprons online from their website perfico.com.
Apart from aprons, they have a wide variety of beautiful personalized gifts. You can choose personalized gift for any occasions from wedding, house warming, return gifts for kids, funny gifts, gifts for professionals and lot more.
What could give a person more happiness than getting personalized gifts with their name or photo on it. If you are looking for unique personalized gifts, then head on straight to
Perfico.com
and choose from a wide range of beautiful personalized gifts for your friends, relatives, near and dear ones.