Kefir pronounced as keh-feer or kee-fur is a fermented milk drink that originated in the North Caucasus Mountains. It is made with kefir "grains", a yeast/bacterial fermentation starter. Kefir is a store house of beneficial yeasts and probiotic bacteria. Before going to "how to make milk kefir at home", let us see few health benefits of kefir which I came to know through various sources.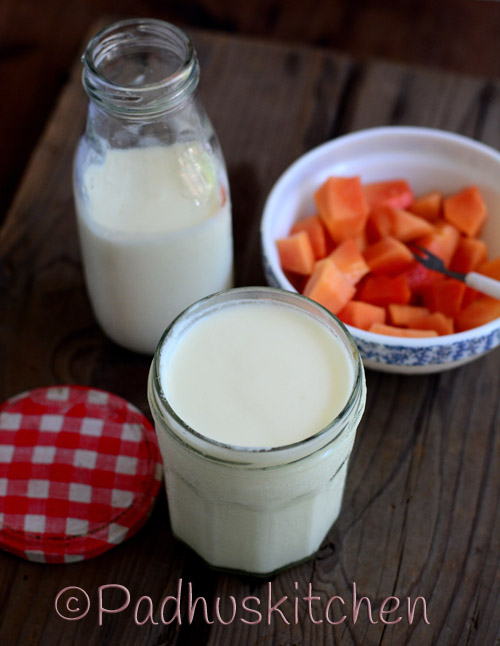 Health benefits of Kefir
Kefir is a store house of beneficial yeasts and probiotic bacteria. Kefir contains more probiotics than yogurt.
Kefir is said to boost immune system.
It is said to improve digestive health and heal various digestive linked health issues like bloating, constipation and also combats irritable bowel syndrome.
Kefir is not only a powerful probiotic but also a good source of other minerals like phosphorus, calcium, magnesium, vitamin D and vitamin K2 which are important nutrients for improving bone health. Kefir helps improve bone density and lowers the risk of osteoporosis
Kefir is said to have anti-inflammatory properties and may help in alleviating various respiratory problems and symptoms of allergy.
Kefir is said to be tolerated by lactose intolerant people as it is low in lactose. During the fermentation process the beneficial bacteria and yeasts consumes most of the lactose.
How to make Milk Kefir at Home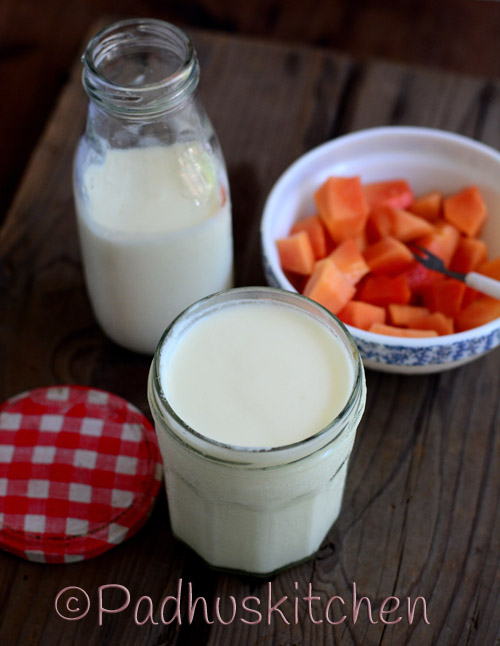 Prep Time : 10 mins (excluding fermentation time)
Yields
:
2 1/2 cups
Recipe Category
:
How to
Author
:
Padhu Sankar
Ingredients needed
Kefir Grains – 1-2 tsp
Whole milk – 2 1/2 cups
Equipments needed
Any glass bottle/mason jar
Wooden spoon
Cheese cloth or paper towel
Rubber band
Plastic Stainer/Nylon Mesh stainer
How to make Milk Kefir at Home
Making kefir at home is not only easy but also economical.
To make milk kefir at home, you need milk kefir grains. Kefir grains are available online or you can get it from a friend who makes kefir at home as kefir grains tend to multiply or grow as we use them.
Step – 1 First we need a clean glass bottle/jar. Put 2 tsp of kefir grains in a bottle and pour around 2 1/2 cups of milk (milk should be at room temperature or lukewarm) leaving an inch space at the top of the jar. (Note – metal containers or spoons should not be used as it will damage the grains).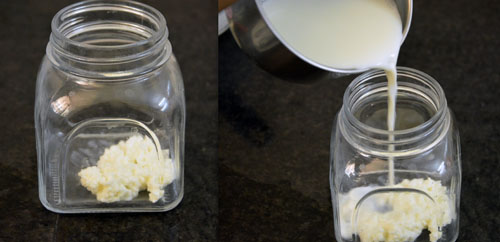 Step – 2 Close the bottle with a soft cotton cloth and secure it with a rubber band.
Step – 3 Leave it undisturbed for it to set. The time taken to set or ferment the milk depends on the climatic conditions and the amount of kefir grains used.
In places where the climate is hot, it will set within 15 hours. (picture on the right shows set kefir).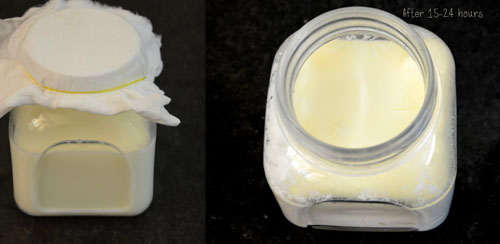 Step – 4 Once it is set, strain the kefir using a plastic strainer. After all the kefir passes through the mesh, you will be left with kefir grains.(see the picture of kefir grains on the right below).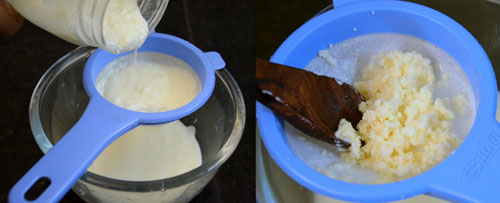 Store the kefir in the refrigerator and consume it within a week. Kefir has a sour taste and has the consistency of a thick buttermilk as you can see in the picture below.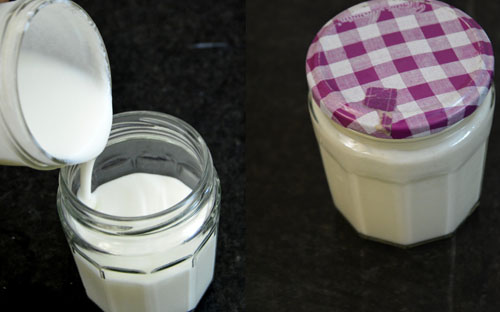 You can use the kefir grains to make another batch of kefir. To make another batch of kefir, follow the same process again. With good care, the kefir grains can be used indefinitely to make kefir.
In case, if you want to give a break for 3-4 days, put the kefir grains in a glass bottle with little milk, close it and keep it inside the refrigerator. This will slow down the fermentation process.
If you are new to kefir, start by drinking 1/8 cup and increase gradually so as to let your body get accustomed to it.
Ways to use Kefir in Recipes

Kefir can be used to make both sweet and savory smoothies, as a salad dressing, to make cold soups and also can be substituted in place of milk or yogurt in popsicles. It can be an be substituted for buttermilk in cakes and other baked goods.

My personal favorite is minty kefir. Grind a fistful of fresh mint leaves, a small bit of ginger with a little salt to a fine paste. Mix the paste with a cup of kefir and enjoy!!
If you found this post useful, kindly consider linking to it or sharing it with others or like us on Facebook or follow me on Twitter or Pinterest or Instagram or join me on Google Plus to keep up to date with Padhuskitchen.