Ghee occupies an important place in Indian cuisine. Home made ghee gives a nice fragrance and taste to the dishes. Making ghee at home is not a difficult task. Not only it is tastier than store bought ones but also cheaper. All you need is good quality butter. So let us learn to make ghee at home. This post is for novice to cooking.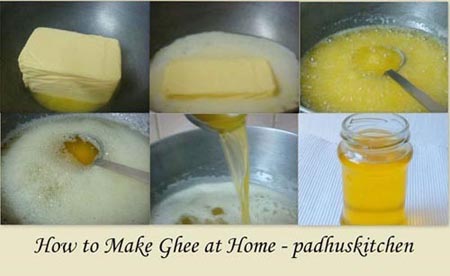 Method
Heat unsalted butter in a heavy bottomed pan over medium heat.
When the butter melts, reduce the heat to low. It will start boiling with lot of bubbles and a gurgling sound. (pic -3)
After some time, the bubbling sound subsides and it will start foaming at the top. The liquid becomes transparent and clear. It will become golden brown in colour and you get a nice aroma of ghee. This indicates that the ghee is done. (See pic 4)
You can add a tsp of fenugreek seeds which is optional. I have added.
Once you get a nice golden colour, turn off the heat otherwise it will get burnt and all your efforts will go waste.
Strain it and store it in a clean container. It does not need to be refrigerated.
Always use clean, dry spoon when using ghee.
This goes to Cooking Basics Event hosted by Mahimaa's Kitchen