Dosa is a South Indian crepe made from rice and lentils. It is rich in carbohydrates and protein and is usually prepared for breakfast or dinner. It is served with sambhar or chutney. Dosa is a favourite among kids. If I ask my kids whether they want idly or dosa, their choice is always dosa. There are a number of varieties of dosa but before going to all that I wanted to give the basic dosa recipe. It is long since I posted anything in my "how to series" for budding cooks.
How to make Dosa at Home – Dosa recipe
How to make dosa batter?
I have given 3 measurements for making dosas. I have tried all the 3 methods several times. You can choose whichever is comfortable for you. You can make both idli and dosa using recipe#1 and recipe#2 but only dosa using recipe#3
How to make Dosa-Dosa Recipe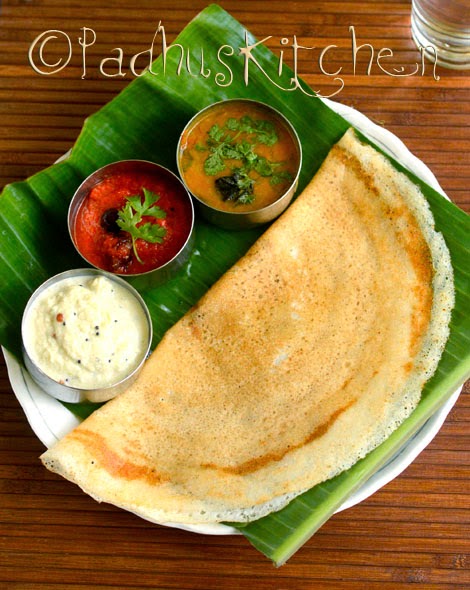 Prep Time : 60 mins
Cook Time :

3-5 mins per dosa
Serves

:

5-6
Recipe Category

:

Breakfast
Recipe Cuisine

:

South Indian
Ingredients needed
Dosa Batter Recipe #1
Par boiled Idly rice -3 cups
Whole skinned urad dal -1 cup
Fenugreek seeds -3/4 tsp (optional)
Salt as needed
Dosa Batter Recipe #2
Par boiled Idly rice -4 cups
Whole skinned urad dal -1 cup
Fenugreek seeds -1 tsp
Salt as needed
Method of preparing the batter is the same as that of Idly batter (click the link for more details)
You can prepare both Idly and dosa, if you are using Dosa #1 and dosa #2 measurements.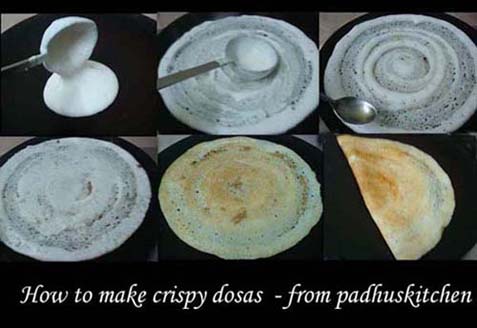 Dosa Batter Recipe #3
Ingredients needed
Raw rice -1 1/2 cup
Parboiled Idli Rice (idly pulungal arisi)- 1 1/2 cup
Whole skinned Urad dal – 1 cup
Fenugreek – 1 tsp
Salt – 1 1/2 tbsp ( I use crystal salt). Use less if you are using table salt. Adjust salt as required.
With this Dosa Batter Recipe #3 you can prepare only dosa.

Wash and soak both rice and dal for 5 – 6 hours separately. Soak fenugreek seeds along with urad dal.

Drain the water and grind dal in a wet grinder or food processor adding water from time to time to a smooth and fluffy batter. Remove it in a container.

Grind rice to a slightly coarse paste adding water little at a time.

Mix both the ground rice and dal together with clean hands or a ladle. The consistency of the batter should not be too thick nor too thin but should thickly coat a spoon when dipped in the batter.

Add salt and leave it overnight or for 7-8 hours for fermentation. The fermenting time differs depending on the temperature and weather conditions.

After fermenting the batter will double its volume. So place the batter in a large container.

This fermented batter is used to make dosa. Now your dosa batter is ready. Mix it well with a ladle.
Ingredients for making dosa
Dosa batter
Non stick tawa/ cast-iron tawa
Sesame seed oil as needed
Bowl of water (for dipping the spatula which makes it easy to take the dosa from the tawa)
Ladle
Spatula

Heat a non stick tawa/cast-iron tawa, grease it with oil. Cut an onion into half and rub it all over the tawa. This is done so that the dosa will not stick to the tawa. (optional)

Take a ladle of batter, pour it in the centre of the tawa and spread it a circular motion.

Drizzle a tsp of oil around the dosa.

If you want paper thin dosas, dip the spatula in water and flatten the dosa evenly ( See pic 2) as shown in the picture.

When the corners start lifting up, flip the dosa to the other side, drizzle 1/2 tsp of oil and cook until done.

It can be served in different ways- rolled, folded or made it into a cone (picture above). It can be made thin and crispy or thick and spongy like uthappams, or super thin (known as paper dosas).
Repeat the same process for the rest of the batter. Enjoy making the most popular South Indian Breakfast at home!!
Refer delicious Chutney Recipes and Sambar Recipes and more side dishes for idli-dosas.
If you found this post useful, I would really love it, if you pin it or share it with your Facebook fans or Twitter followers or Google+ circles today. All it takes is a simple click on the "pin it" "like," "share," "tweet," or Google+ buttons below the post. It will keep me motivated. Thank you!