Many have difficulty in making dosa, especially beginners. Today I am going to share with you few tips which I follow to make perfect dosas!!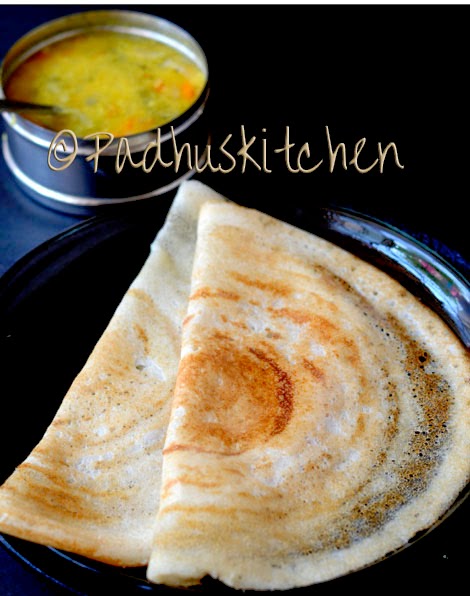 Once you practice, making dosa is very easy. Though I have both non stick and cast iron tawa, I personally prefer using cast iron tawa. I have given you few tips which I follow regularly to prevent dosas from sticking to the pan.
1.When you buy new cast- iron tawa, slightly heat the tawa, sprinkle salt on it and saute until golden brown. Switch off the heat. Once it cools, clean the tawa with a cloth, apply a light coating of oil and store it. This should be done when you buy a new cast iron tawa. Before
making dosa
, wash the tava well with water.
2.Try making omelet 2-3 times in it first, then make dosa. If you do not include eggs in your diet, then try making adai first. Once the cast iron tawa is seasoned well, it works wonderfully and making dosa is a breeze!!!
3.Before making dosa– Heat the tawa on medium flame, sprinkle some water, allow the water to evaporate, add 2-3 drops of oil on the tawa and rub the tawa with half an onion before spreading dosas. This prevents the dosa from sticking to the tawa and you can make olden brown, crispy dosas every time.
4.When onions are too costly, you can also cut the top portion of a brinjal or bottle gourd and use it instead of onions. Heat the tawa on medium flame, add 2 drops of oil on the tawa, rub/coat the tawa with oil holding the stalk of the brinjal/bottle gourd.
5.Bring the batter to room temperature before making dosa.
6.The temperature for making dosa should not be too high nor too low. If the tawa becomes very hot, sprinkle a little water on it to bring down the heat.
7.The dosa batter should not be too watery nor too thick.
8.Never wash tawa when it is hot. Once it cools, wash it with plain water and wipe it dry. If it is too oily, then use liquid soap and sponge to wash the tawa and wipe it dry with a cloth. Do not use harsh soap, plastic or steel scrubber to wash the tawa.
9.Use separate tawa for dosa and chapati.
10.When you buy iron tawa, buy thick iron tawas as they are good for making dosas and rotis. When you buy non-stick tawa, go for calphalon-a superior anodized product. Though it is a bit more expensive than teflon, it is much healthier. Do not use teflon coated non stick tawa, if the teflon coat peels/wears off.
Hope these tips will help you to make perfect dosas!!!
Reader can also post their tried and tested tips in the comments section.
If you found this post useful, I would really love it, if you pin it or share it with your Facebook fans or Twitter followers or Google+ circles today. All it takes is a simple click on the "pin it" "like," "share," "tweet," or Google+ buttons below the post. It will keep me motivated. Thank you!