2 Minutes Instant Wheat dosa ! Yes it is true. No planning, no grinding, no fermenting, just mix wheat and rice flour together and start making yummy dosas. This dosa is a boon for working women. It is also healthy as we are not adding maida/ all purpose flour to make this dosa. When I am tired or do not have the mood to spend much time in the kitchen, this recipe comes handy. So I always stock both the flour at home. Initially you might find it difficult to take the dosa from the tawa but do not give up, with a little practice, this dosa is very easy to prepare.
Let us go to this quick dosa recipe. For this measurement you will get 6-7 dosas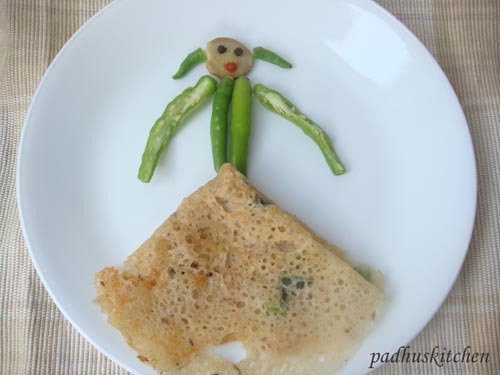 Ingredients needed
Wheat flour -1/2 cup
Rice flour – 1/2 cup
Water -2 1/2 cups
Cumin seeds/jeera -1 1/2 tsp
Whole black pepper – 1 tsp
Green chillies -2 (finely chopped)
Ginger – 1 inch piece finely chopped
Oil for making dosas ( sesame seed oil preferable)
Salt as required
For the seasoning
Mustard -1/2 tsp
Asafoetida -generous pinch
Curry leaves – little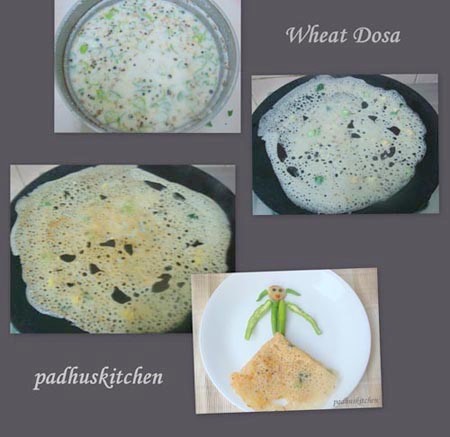 Method
Mix everything under ingredients needed well. The batter should be thin.
Heat a tsp of oil and season with the ingredients for seasoning.
So far everything is very easy. The trick is to made the dosa .You cannot spread the batter as you do for regular dosa.
Grease tawa with oil. Take a little batter in a ladle and start filling it from the outer corners of the hot greased tawa to the inside in a net like pattern. (see picture 2)
Drizzle a tsp of oil and cover it with a lid ,when it becomes golden brown, flip it over to the other side and let it get cooked.
Serve hot with chutney or sambar .
Tips – Take batter little by little to fill up instead of pouring once.
This dosa will take a little longer time to get cooked than the regular dosa. So do not hurry to take the dosa from the tawa.
This dosa should be served hot.
Refer pictorial description of How to make dosa for Basic Dosa Recipe.
Meet you all again with a wonderful post. Till then it is bye from Padhu.