Idli is one of my specialty dish and also my most favorite breakfast dish. It is South India's most popular breakfast and also a very healthy dish.My family members and many of my relatives love my soft idlis and I have many fans for it. In fact my daughter used to tease me saying that after retirement you can open an idli shop. My late father is a big fan of my idli and will ask me for it whenever he comes and stays with me.Though I have already posted

how to make idli, I wanted to give my readers a few more tips on how to make soft idli and idli batter recipe. This is also a special post for all my North Indian friends out there.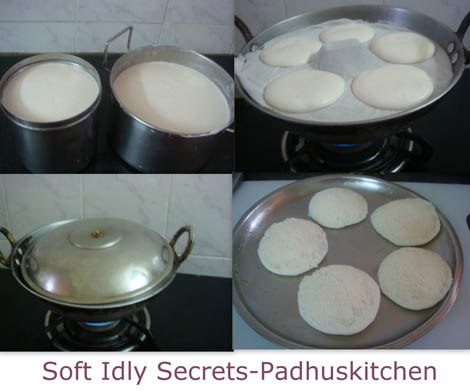 Before sharing with you tips on how to make soft idly, let me give the idli batter measurement
I have given two measurements below. I have tried both several times and my idli/idlys turn out very well with both the measurements.
Idli Batter Recipe (for soft idly)


Recipe- 1
Par Boiled Idli rice – 3 cups (Idli Pulungal Arisi)
Urad dal – 1 cup (Mulu Ulundu or whole urad dal without skin)
Crystal Salt – I use only crystal salt (1 1/2 tbsp or as required)
Recipe – 2
Par Boiled Idli rice -4 cups (Idli Pulungal Arisi)
Whole Urad dal – 1 cup
(
whole urad dal without skin)
Crystal salt – as required
What special ingredient do I add to make my idli soft? The answer is nothing. I do not use baking soda or cooked rice or fenugreek or poha or eno, then how do I manage to get soft idli ? Read further and find out-

The quality of the rice and the urad dal is very important. You get par boiled rice specially for making idli known as Idli Pulungal Arisi in tamil.
The quality of the dal is very important. I use full urad dal without the black skin. I never stock urad dal but will buy only what I need for a month. Do not use old stock or low quality dal or split urad dal which we use for seasoning.

Just as quality is important, soaking time is also equally important. Wash and soak rice and dal for 5- 6 hours.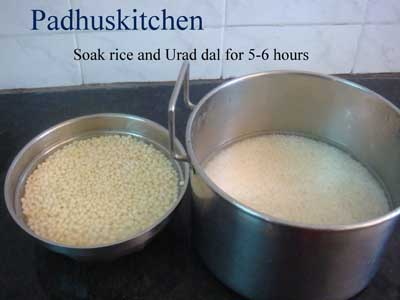 3. Grinding:
I personally, always prefer to use wet grinder for grinding batter for idli and dosa. The secret to soft idli lies in grinding and the consistency of the batter.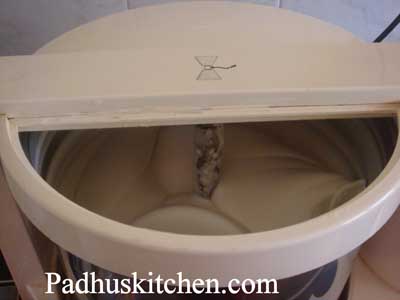 First grind the urad dal well until it is light and fluffy. After switching on the grinder, do not forget about it. Check now and then and add water little by little to the batter (you can use ice cold water if needed).
I usually grind urad dal for about 40 minutes. Then remove the ground dal from the grinder. The urad dal batter should not be sticky but light and fluffy.

Then add the soaked rice along with little water. You should not add too much water in the beginning itself.You have to add water little by little, while it grinds. Grind rice to a smooth paste.
Then add the ground urad dal to the ground rice and grind for another 5 minutes so that it gets mixed well.
Remove the batter from the grinder, add salt and mix well with your hands. Fill only up to half in a container leaving room for it to raise while fermenting.
4.Consistency of batter:


Just as grinding is important, the consistency of the batter is also equally important.If your batter is too thin, the your idli will turn flat.
If your batter is thick, then your idli will be rock hard. So take care when adding water while grinding. That is the reason why you should add water little by little by checking the consistency.
5. Fermenting:
You must give at least 6-7 hours for the batter to ferment.This duration may vary depending on the climatic conditions. In winter it may need longer time and in peak summer it may require less time. The batter would have raised nicely, if it has fermented well. Look at the first picture (collage).
I filled only till half and the next day it has risen well. I usually grind in the evening and leave it overnight to ferment.
Mix the fermented batter well. Now it is ready for making idli. If you are not going to use immediately, refrigerate the batter.
6.Steaming
You can use an idli pot or a streamer or a kadai or a pressure cooker without weight for steaming.
You can use any heavy bottomed vessel with a lid which can fit your idli moulds perfectly.
The important point to be noted here is to bring the water to boiling point before steaming the idlis.
I place a damp muslin cloth on the idli mould , then scoop out a ladle of batter and fill in the idly moulds, then close it with a lid.You can even grease your idli mould with oil but I usually prefer the first method for the lovely texture.
Steam for 10-12 minutes. Insert a fork in the middle, if it comes out clean, then your idli is done. Invert the mould on a plate and gently remove the mould. Sprinkle water on the cloth and gently separate the cloth from the idlis.
Serve hot with any chutney or sambar or just idli podi and gingerly oil.
Check out Side dish of idli, dosa for more recipes.
You can make idli for the first two days, use the remaining left over batter to make dosa. Check out my Dosa recipe
Wow! Look at the texture – so soft and spongy that it melted in our mouth.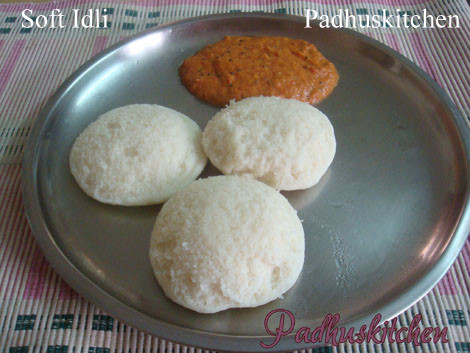 To summarise, the trick in making soft idlis lies in the above 6 tips. The above factors play a great role in influencing the quality of your idli.
If you do not get perfect idli,then do not loose heart or give up, with trial and error, you can master the art of making soft and spongy idlis.
I feel so happy in sharing with you all my soft idli secrets. Good Luck!!