This is another simple curry which is a good accompaniment with rice.I love anything prepared with senai kizhangu and this is one of my favorite curry. Proper care should be taken while cutting this vegetable as some may have itching sensation. Wear disposable gloves or grease your hand with oil before cutting this vegetable. Today let us learn how to make Elephant foot yam curry following this easy recipe.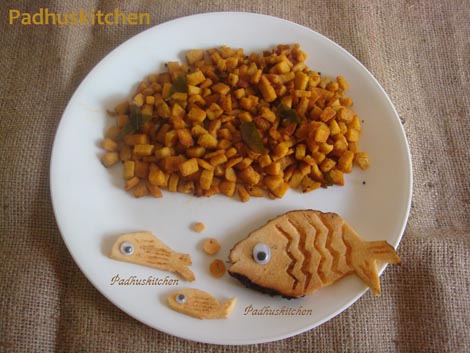 How to prepare Elephant foot yam curry/ Senai Kizhangu Roast
Prep time – under 15 mins
Cook time – under 30 mins
Serves – 2
Ingredients needed
Elephant foot yam – 3 cups chopped
Turmeric powder – 1/4 tsp
Chilli powder – 2 tsp ( I used homemade chilli powder, if using store bought, use less)
For the seasoning
Oil – 3-4 tbsp
Mustard seeds -1 tsp
Curry leaves – few
Preparation
Peel the skin and chop elephant foot yam into cubes.Then wash it well under running water.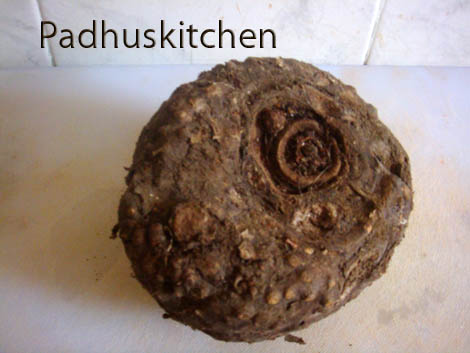 Boil little water, add the chopped vegetable, salt, turmeric powder and cook till half done.Then drain the water and keep it aside. (See picture below. )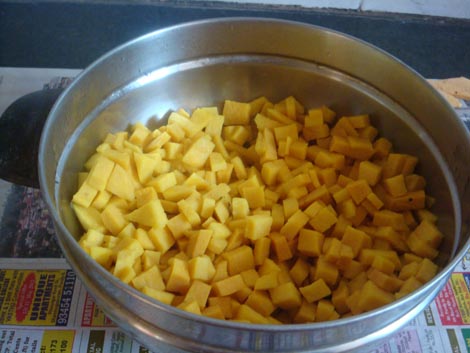 Method


Heat oil in a pan, add mustard seeds, when it splutters, add curry leaves and the half cooked senai kizhangu.
Add required salt and chilli powder.Cook covered in low flames till well roasted.
Variation –
If you want your curry to be crispy – then add the senai kizhangu directly in the oil without cooking it.
In that case, it will consume more oil and you will have to chop it into still smaller pieces.
Check out Kerala style
Kootu curry
with elephant foot yam and plantain.